Drivers in Avenel have come to trust Richard Lucas Chevrolet for many reasons, not the least of which is our dealership's commitment to delivering the highest quality new Chevys, used vehicles, and Certified Pre-Owned Chevy cars, trucks, and SUVs. Not only do we offer the traditional fan-favorite vehicle types, but we are also the best New Jersey electric car dealer. The Chevy Bolt EV has gained a significant amount of attention and excitement since the Bolt's dramatic refresh in 2020. Today's EV - or electric vehicle - drivers are finding themselves with more choices and more highly capable vehicles.
With a full charge range of 259 miles, the Chevrolet Bolt EV has created a ton of buzz for itself, and the release of new EV models like the Chevy Bolt EUV just creates more. Therefore, it stands to reason that drivers in New Jersey will look to the dealership they trust for the EV they crave. Richard Lucas Chevrolet is your ultimate resource for all things Chevy. A quick trip to our location in Avenel or our website will help you learn more about the overall benefits of owning an EV like the Chevy Bolt, as well as how easy "Living Electric" can be.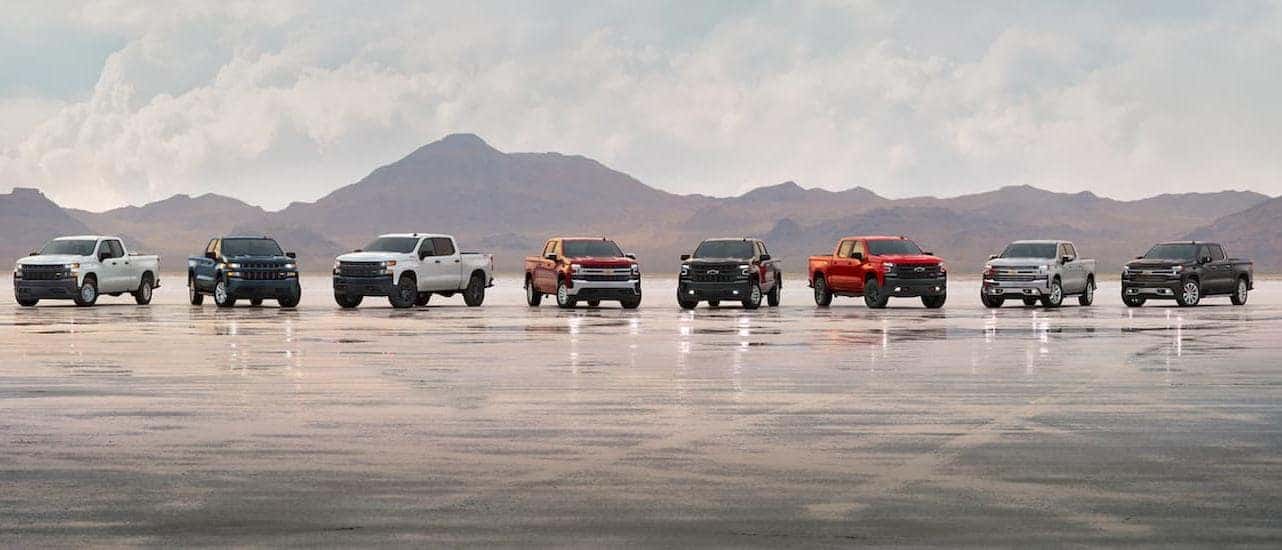 Why You Need a New Chevy Truck
n
Although we are pleased to offer a fantastic inventory of used and CPO Chevy trucks for our customers, there really is something special about driving a brand-new pickup from Chevrolet. The look and feel of a new truck cannot be beat, and while you can save money with a pre-owned model, the knowledge that you are the first person to own a truck is truly unique. As Chevy continues to innovate and develop some of the best trucks on the road, the features and level of performance that you get each year continue to build on what came before, which means each new Chevy truck is better than ever.
n
Performance and capability are really the keys to success with a Chevy truck, and these are areas that continue to improve year after year. As Chevy's designers and engineers work on solutions to problems and push the limits of what a truck can do, they develop new models with more power than ever before. Looking at a model from a decade ago, compared to now, the improvements to their engines and the kind of performance they can deliver really is something that cannot be overstated.
n
One of the things we love about the Chevy lineup in general, but especially in terms of their trucks, is that it is clear the team at Chevrolet is never satisfied with what they have done. They are always looking for ways to improve, for new options to provide, and for features or designs that can elevate their lineup. You can look at something like the Colorado, Chevy's popular midsize truck, and see that as a baseline model, it is already a great choice for going off-road. But then Chevy will introduce features on the ZR2 trim that take that off-road performance to the next level; it makes every new model or trim something to look forward to.
n
Chevy's trucks just get more powerful and fun to drive every year, with upgrades to their transmissions or new engines being offered pretty frequently. On top of this, Chevy is always improving upon its infotainment systems and safety features, so as you compare a brand-new model to one from even a few years ago, you will find numerous improvements. This kind of drive to always improve and do better is really the hallmark of Chevrolet and why they have been a leader in the auto industry for more than 100 years. That kind of commitment is rare in this world, and when you drive a new Chevy truck, you can feel the pedigree and legacy of quality that led to your pickup coming into being.
2022 Chevy Silverado 1500
n
The 2022 Chevy Silverado 1500 takes everything that worked for the 2021 model year and improves upon it in ways that will surely delight most truck shoppers. This includes upping the total tow capacity for the Duramax turbo-diesel, improving the 4.7-liter turbocharged High Output 4-cylinder, and improving the infotainment features. You basically get an overall enhanced experience with the 2022 model year Silverado 1500 from top to bottom, which includes the addition of the much-talked-about off-road-ready ZR2 trim made available for the consumer production model Silverado 1500 for the very first time.
n
In addition to the ZR2 joining the line-up for the Silverado for the model year outing, there is also the improved 2.7-liter 4-cylinder that delivers 20% more torque at lower RPMs, meaning more access to more torque much quicker. Additionally, the Duramax turbo-diesel can now tow up to 13,300 lbs. To top off all the performance enhancements, the Silverado 1500 has received the semi-autonomous driver-assist system known as Super Cruise for hands-free travel across more than 200,000 miles of road across North America. And if that isn't enough, the 13.4-inch upgraded HD touchscreen with Google Built-In support takes the infotainment functionality of the Silverado 1500 to the next level, which includes all-new voice-activated control mechanisms and easy-to-use navigation support.
n
The 2022 Chevy Colorado
n
Although there are not many radical improvements or new features for the 2022 Chevy Colorado, it remains one of the best midsize trucks available anywhere. In terms of performance, the 2022 Colorado is as good as ever, with several different impressive engines available, including a 2.8L Turbo Diesel option that gives you up to 7,700 lbs of maximum towing capacity. The available 3.6L V6 engine delivers 308 horsepower for a truly exceptional driving experience and a lot more power than you would expect from a truck of this size.
n
For its 2022 model year, the Colorado remains one of the best pickups around for going off-road, thanks in large part to its fantastic ZR2 trim. The ZR2 features a 2-inch higher suspension and wider front and rear tracks compared to the standard Colorado, with front and rear electronic locking differentials that all come together to make it a beast on the trail. We are particularly excited for the Trail Boss package that is now available on the LT and Z71 models, which includes a 1-inch suspension lift and front and mid-vehicle skid plates, creating more options for going off-road in the Colorado.
n
The 2021 Chevy Silverado
n
The 2021 Chevy Silverado 1500 continues to be a full-size light-duty pickup that cannot be beat, delivering excellent performance and an innovative driving experience. There are so many amazing features for the Silverado that it is impossible to highlight all of them, so we will do our best to focus on a few of our favorite things. For starters, the available Multi-Flex Tailgate is one of the best tailgates in the auto industry, with six different functions that include numerous stops for cargo, easy access to the bed, a full-width step, and a work surface that is perfect for use with a laptop or paperwork.
n
Customization is really the name of the game with the Chevy Silverado as it gives you six different engines and eight different trims to choose from. Whether you are looking for a work truck that will get you through the week, a pickup that can work and play hard, or a high-tech mobile office to get you from one job site to another, the Silverado has you covered. With a maximum towing capacity of more than 13,000 lbs, there is almost nothing the Chevy Silverado cannot handle. Best of all, a new Silverado can have a number of improved features to make towing easier than ever before, including a jackknife alert and a trailer-length indicator.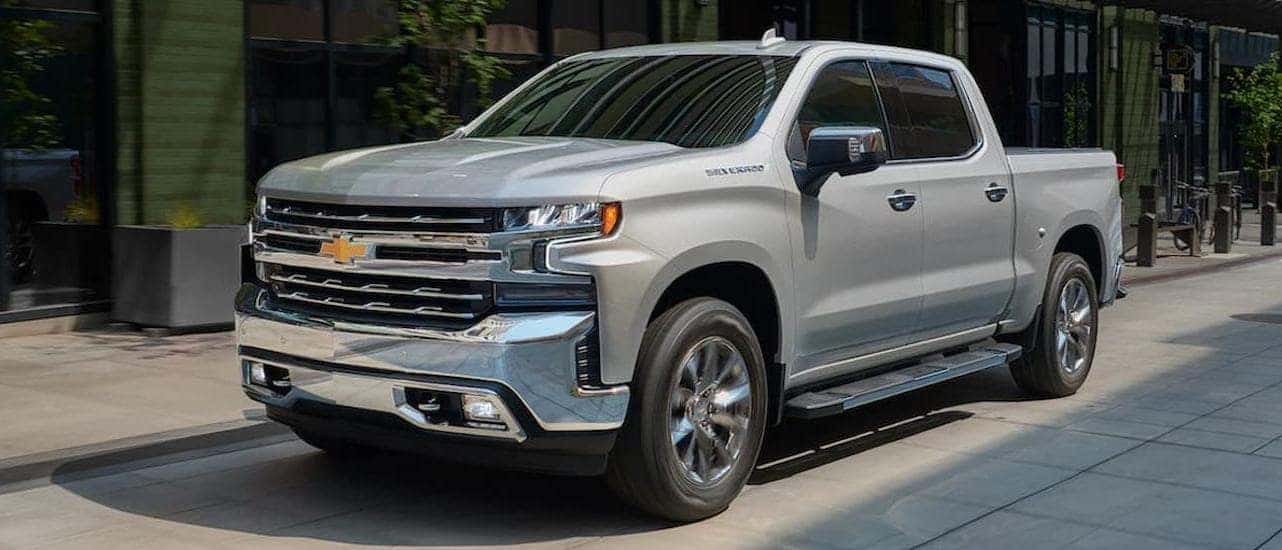 When You Need a Used Chevy Truck
n
Used trucks are big business in the world of the automotive market, and lots of people out there looking for a new vehicle are shopping for some of the best used trucks available. At Richard Lucas Chevrolet, we are the New Jersey truck dealer that has a wide assortment of trucks to satisfy the needs of truck shoppers looking for everything from midsize pickups to heavy-duty haulers. Our specialty is in making sure customers walk through the door with a specific truck in mind and leave with a smile on their face knowing they were able to buy exactly what they wanted.
n
Our selection of used trucks ranges from all sorts of different model years and trims. This gives shoppers plenty to work with when it comes to finding something that's just right. This includes basic used truck models in multiple cab and bed configurations, including Crew Cab, SuperCab, and Double Cab formats, as well as short, regular, and long beds. You can get the used trucks in a variety of different trims, too, including base trims, luxury trims, custom trims, and off-road trims. Nearly every type of truck you can think of, we have a configuration for it.
n
Our used lot also extends to work trucks. Do you need something for a worksite? We have you covered. Whether you're looking for light-duty or heavy-duty full-size pickup trucks, there is something for everyone. Need a truck with a reinforced frame that's designed for heavy payload hauls? No problem, check out our selection of trucks with beds designed to carry the heaviest tonnage available on the market. Need a truck for towing, plowing, or trailering? We have a selection of used trucks that are perfect for hooking up a gooseneck or 5th-wheel for trailering or for towing other vehicles and flatbed loads.
n
Maybe you need a used truck of the commercial variety? Look no further than our single-rear-wheel, dual-rear wheel, or utility commercial trucks, perfect for those who need something that can be upfitted for specific kinds of work. Search through our inventory of used commercial vehicles and easily designate if you need a basic pickup, a dump truck, a utility vehicle, or a cutaway chassis. We have options available for those who need them, which is what makes us one of the best New Jersey truck dealers in the region.
n
Financing Your Truck at Richard Lucas Chevrolet
n
When you need to get financing for the purchase of your next vehicle from a New Jersey truck dealer, you need to make use of the financing options made available from Richard Lucas Chevrolet. If you need a loan that works for you, simply fill out the form to get pre-approved so you can get the Chevy truck you've always wanted to drive.
n
Have bad credit, no credit, or are in debt? Well, we have just the solution for you with the ability to utilize a 100% secure credit application that allows you to get pre-approved for a car loan. You can even take advantage of financing that allows you to purchase a truck from our lot with $0 down and APR financing that won't leave your bank account dry. The best part about it is that you don't even need any appointments to secure a loan.
n
All you need to do is provide some documentation to get started, including a valid driver's license, proof of income, a phone or utility bill, previous insurance info, or a title or lien payoff letter. The more documentation you have, the easier it is to get pre-approved for a loan. However, if buying a truck, new or used, still seems outside of your budget, we still have options for you at Richard Lucas Chevrolet. What sort of options? How about leasing options.
n
That's right, you can lease a Chevy truck without worrying about being tied to any kind of lengthy or expensive car payments, nor do you have to worry about having to get involved in any loan procedures. With a lease, you can drive the truck you want with the option to buy. Additionally, you can take advantage of Chevrolet Protection services for your leased vehicle, which includes tire, wheel, and appearance protection, covering more than 1,000 parts of the vehicle. It's an excellent option whether you finance a new or used vehicle or if you opt to lease your vehicle from our dealership.
n
Maintaining Your Truck at Richard Lucas Chevrolet
n
Ownership is great, but you also have to maintain the truck to keep it running well and running right. This means taking proper care of the truck and ensuring that you follow the owner's manual when it comes to having it serviced for regularly scheduled maintenance. This is a very important step and one that we take very seriously at Richard Lucas Chevrolet, which is precisely why we have dedicated, specially trained, certified technicians that work at our service center.
n
At Richard Lucas Chevrolet, we can help you keep your truck up and running the way it was intended to run. While most truck enthusiasts can perform some basic maintenance on their own, such as changing the oil every several thousand miles, or checking the tire pressure to ensure that the tires are inflated, let our technicians handle more of the complex tasks. Need your tires rotated and the wheels aligned? How about a battery charge, fluid top-off, and complete engine and transmission inspection? These are the sort of tasks that we handle at our service center for those who need to keep their trucks in the best running shape possible.
n
We have specials and deals that allow truck shoppers to take advantage of discounts on auto service and truck maintenance, including everything from rotational discounts on battery, brake, and fluid services, to parts installation and multi-point inspections. Even if you feel that your mechanical grade skills are par above the rest, you can still use our online parts order form to find replacement OEM parts for your truck, ordering directly from us so that we can get the part straight to you. Alternatively, if you don't feel comfortable with mechanical installations, you can order the part from us and have our technicians from the best New Jersey truck dealer install the parts for you. At Richard Lucas Chevrolet, our options and customer assistance are what keep us head and shoulders above the rest.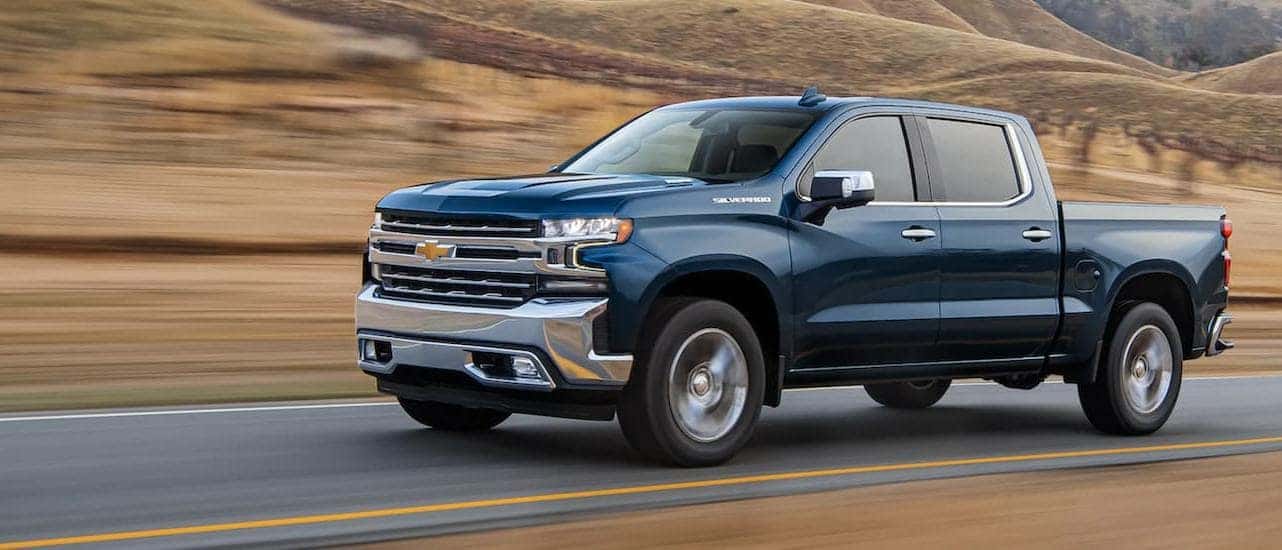 Richard Lucas Chevrolet Is Ready to Help
n
Whether you are looking for a great off-road model like the Chevy Colorado ZR2, a hard worker like the Silverado 1500, or even more power from a Silverado HD model, we are here to help. At Richard Lucas Chevrolet, our friendly and knowledgeable salespeople can work closely with you to explore all of your options and make sure you get the perfect truck. We will answer any questions you have, look at the various models and trims available, and help you decide on which new pickup will best meet your needs.
n

Our financing experts have really seen it all before, so they can do everything possible to help you find the right financing to get the truck you want. At our certified service center and parts department, we will keep your Chevy pickup running beautifully, whether you need routine service or want to order parts to do the work yourself. Call or come visit us at Richard Lucas Chevrolet to learn more and let us help you find the perfect truck with everything you need.