If you're shopping for a used truck and have just begun the process, the first thing you might want to consider is size. There are several size options within the pickup truck category, and the one you choose impacts towing capability, fuel economy, and passenger volume. These are all things to keep in mind before visiting a New Jersey used truck dealer, and as you're searching, here are some things to keep in mind.
Buying a pickup truck is a little different than buying an SUV or a sedan because most buyers in this category need their truck for specific work or utility functions (other than driving themselves and people around town). Maybe it will function as a job site truck, or it will be the main method of transportation for your handyman business. Whatever the task it's intended to perform, getting the weight class and capability specs right is important.
It's not all about work, though. These days, pickup owners want a day and night, weekday and weekend truck that is good-looking as well as capable. Here at Richard Lucas Chevrolet, we see a lot of buyers who want the best of both worlds. Is it possible? You bet, thanks to a full range of comfort and luxury interior features that transform the cabin into an oasis for friends and family.
If you are ready to purchase a pickup truck, remember to consider how you'll use it and what tasks it needs to perform. That could be anything from off-roading to towing a trailer or hauling cargo to transporting crews to and from a job site. Maybe you need a little bit of everything and want a fully-equipped truck that can handle it all. Anything is possible once you know what you need. And if you are still unsure of what kind of truck best fits you, don't hesitate to visit us here at Richard Lucas Chevrolet, and we'll be happy to answer any questions you might have and take you through our extensive collection of used trucks.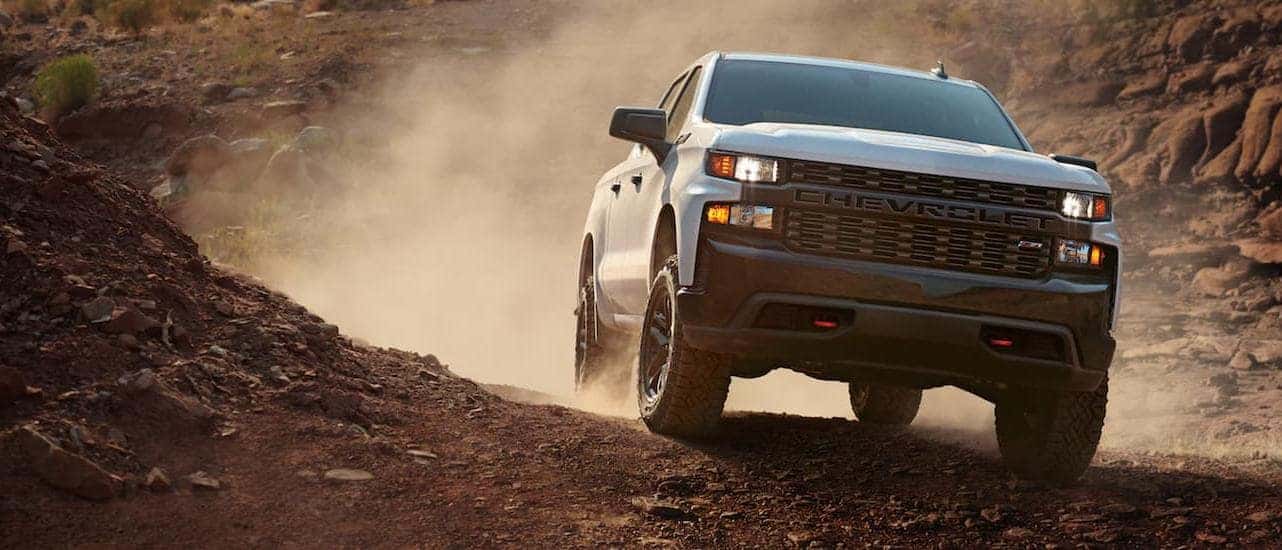 Start With Truck Size
As recently as 2004, buyers had the option of purchasing a new compact pickup truck. These small but mighty mini-trucks were manufacturers' answer to the growing fuel crisis in the mid- 1970s. When buying a gas-guzzling, full-size pickup didn't make sense, the engineers at Chevrolet introduced the S10. It had a good run, but Chevy discontinued it in 2004 due to declining sales and replaced it with the midsize Colorado.
More recently, the pickup size lineup includes three options: midsize (the Colorado), full-size (the Silverado), and heavy-duty (the 2500 and 3500). Each is specific to a range of capabilities, giving buyers plenty to consider. Midsize trucks offer the perfect blend of work and leisure. Their not- too-big size means some capability without all the bulk and hassle of driving a full-size truck.
If a full-size pickup is what you're after, the Chevy Silverado 1500 is for you. Easily the most popular pickup truck size in the country, this size category makes up the bulk of pickup sales. Often referred to as half-ton trucks (even though they now offer payloads of well over one ton), they're considered light-duty by the Federal Highway Administration, so automakers must still report fuel economy ratings.
Heavy-duty, or HD, trucks are a little more complicated because they're classified by a Gross Vehicle Weight Rating (GVWR). Any truck with a GVWR of 8,500 pounds or more is considered exempt from EPA fuel economy reporting. Chevy's Silverado 2500 and 3500 fit the bill, and they're designed for big jobs, like trailering up to 36,000 pounds or hauling 7,000-pound-plus payloads. HD truck buyers need serious capability, and these massive rigs are designed to provide it.
What Are the Best Features to Look For in a Truck?
The truck segment is one of the most competitive in the industry as automakers like Ford, Ram, Chevy, GMC, and Toyota work to make their trucks even more capable and innovative. This makes shopping for a used truck an even better decision since you will reap the benefits of this healthy competition and get behind the wheel of a capable workhorse designed to make your life and work easier. But what type of innovative features and tech should you look for in your search for the
#1 - Sturdy Bed Construction
The bed of your truck will see a lot of wear and tear, which is why you'll want to ensure it's made of heavy-duty materials that can withstand the elements, bumps, dings, and scratches. GMC introduced its all-new CarbonPro bed on the 2019 Sierra 1500. This carbon-fiber composite bed is lightweight but don't discount its longevity. The carbon fiber material does an incredible job of protecting against corrosion and any normal wear and tear it will encounter.
#2 - Integrated Storage
Just because you drive a truck doesn't mean you should miss out on convenient storage options, at least not when you shop for a Ram truck produced after 2009. Ram answered the need for more storage in its trucks by converting the unused sides of the truck bed into lockable storage areas that the automaker dubbed its RamBox system. The weatherproof bins come with floor drains that make them easy to clean and ideal for storing everything from tools and toolboxes to boat paddles, golf clubs, and more.
#3 - A Versatile Tailgate
GMC revolutionized the truck segment in 2019 with the introduction of the first multipurpose tailgate. Born out of necessity and practicality, the MultiPro tailgate gives drivers easier access to the truck's bed with an innovative design that offers an entry step, bed extender, standing workstation, a seat, and two-tier storage. With GMC and Chevy both under the GM brand, the multipurpose tailgate naturally made its way to the Chevy Silverado as the Multi-Flex tailgate on 2021 models. Chevy's Multi-Flex tailgate offers similar functions, including a work surface, a full- width step with a 375-pound weight capacity, and a primary gate with a load stop that prevents longer items from sliding out of the bed.
#4 - Trailering Tech
"Built Ford Tough" reached a new level in 2016 with the addition of the Pro Trailer Backup Assist feature to the iconic F-150. With drivers struggling for years to efficiently backup and park trailers, Ford answered the need with an innovative tool that the driver can engage using a knob inside the truck. The tool uses the rear backup camera, sensors, and electric steering to guide the trailer into the chosen spot, with the driver controlling only the throttle and brake.
Ford has since added unique tools like Trailer Reverse Guidance, encouraging automakers like Ram to follow suit. Ram's towing technology is just as impressive and includes Trailer Reverse Steering Control and Blind Spot Monitoring with Trailer Detection, the latter of which makes it easier to change lanes on the highway. Other features on used models like the 2019 Ram 3500 include extended trailer tow mirrors with spotter lamps, while newer models like the 2021 offer trailer tire pressure monitoring.
Commonly Asked Questions
#1 - What are the different types of trucks?
Trucks are classified in a variety of ways, from whether they are powered by gasoline or diesel to whether they are focused on luxury or performance. Most often, however, trucks are categorized by their size: compact, midsize, full-size, and heavy-duty. Full-size trucks are among the most popular in America and excel at various tasks from towing to off-roading. Popular full-size models include the Ford F-150, Ram 1500, GMC Sierra 1500, and Chevy Silverado 1500.
Midsize trucks are slightly smaller than their full-size counterparts, but that doesn't mean they are any less capable. The Toyota Tacoma is a great example of this, especially when you look at the Tacoma's off-road capability and maneuverability. Compact trucks like the Ford Maverick and the Hyundai Santa Cruz are slowly building a following among drivers because their small size makes them efficient commuter trucks throughout the week and adventure-capable rigs on the weekends.
On the complete opposite end of the spectrum are heavy-duty trucks. These models are even larger than full-size trucks and are exceptional workhorses that can tow extremely heavy loads. Three-quarter-ton models like the GMC Sierra 2500 HD are the next step up from a full-size truck, while one-ton models like the Ford F-350 are purpose-built for the heaviest tasks.
#2 - What is the difference between payload and towing capability?
As you shop for a used truck, it's important to know the difference between payload and towing. Payload is the weight a truck can carry while towing is the weight a truck can pull. A truck's weight without any passengers or cargo is known as its curb weight. Its payload is the weight the truck can safely carry and includes you as the driver, your passengers, or anything in the truck's bed like a load of garden mulch, luggage, or camping gear.
If you plan to tow a trailer, boat, or camper with your truck, you'll want to know its towing capacity or the weight it can safely pull. A truck's towing capacity is greater than its payload because the weight of what you're towing is not on the truck's axles but on the trailer. Towing capacities vary by truck, with heavy-duty trucks offering the greatest capability. Gooseneck and fifth-wheel hitches will usually offer higher tow ratings than standard ones.
#3 - Which is better: more horsepower or more torque?
It depends on how you plan to use the truck. Imagine that two trucks are sitting at the starting line and that one truck has greater horsepower while the other has more torque. The truck with more horsepower will accelerate faster and reach the finish line first. Now imagine that both of these trucks are towing a trailer. The truck with greater torque will outperform the other. Why is that? A truck's horsepower is the speed at which an engine does work, while torque is the engine's ability to perform work. Horsepower delivers the speed, while torque delivers the capability. This is why heavy-duty trucks have higher torque ratings that make them capable haulers, while smaller trucks have higher horsepower ratings since they have greater demand for speed and performance.
What Are Some of the Best Selling Used Trucks?
Year after year, the Big Three auto manufacturers duke it out for a market share in the pickup category, and buyers become the big winners. As manufacturers add newer and better technology and capabilities to the list of available features, these trucks gain even more popularity. Innovations to seemingly static truck architecture, like the tailgate and bed, add more functionality and tweaks to engines and powertrains that increase power without sacrificing fuel economy. The popularity of trucks means that manufacturers will always make it a focus.
In fact, popularity is an understatement because pickup trucks made up five of the ten best-selling vehicles in 2020, with the top three trucks alone representing about 13 percent of all vehicles sold. The three best-selling trucks are the Chevy Silverado, the Ford F-150, and the Ram 1500, but midsize trucks, like the impressive Chevy Colorado, remain a popular choice as well. Chevrolet has sold between 400,000 and 600,000 Silverado pickups in the U.S. every year for the past decade, and the last five model years have seen a significant annual uptick. That's great news for used truck buyers because many of these trucks are leased, which means model years as recent as 2018 are starting to show up on dealer showroom floors as high-quality pre-owned options.
The Chevy Silverado
The Silverado has been a staple in the Chevrolet lineup for decades, and whether you're looking for an exceptional work truck, an everyday commuter, or a fearless adventurer, the Silverado proves that it can do it all. Opt for models from 2015 for extreme strength with a selection of three high-performing engines, in addition to an enhanced infotainment system to bring connectivity to any type of travel. Models from 2016 showcase plenty of exterior design upgrades, like a new grille and taillights, as well as desirable tech features, like Apple CarPlay for increased productivity on the road.
For those who want to be able to tow like a pro, the 2017 model adds even more towing capabilities, making it a leader in its class. You'll also find a nice array of safety features, including a Teen Driver system to help new drivers perfect their skills behind the wheel. When you want even more convenience, the 2019 Silverados won't disappoint, offering new tech, like a helpful backup camera, which comes in handy, especially when traveling with a trailer. You'll also find that a mild hybrid system has been added to the Silverado's arsenal, allowing for increased efficiency for frequent travelers to maximize their ride in the Silverado.
Silverados from 2019 are redesigned, sporting a lighter, larger platform and a more spacious cabin, in addition to even more powertrains to choose from to help you get the Silverado for any type of task. Its 6.2L V8 becomes available in more trim levels in 2020 models, in addition to the debut of the efficient and strong Duramax 3.0L diesel engine. Opt for models from 2021 to take advantage of highly desirable features, like its Multi-Flex Tailgate, which allows you to operate your tailgate in six unique ways to be able to handle more during your travels. Increased capabilities can also be expected in newer models, including higher max towing ratings and more luxurious appointments available in its prestigious High Country trim. No matter how you plan on using your Silverado, it's clear that you have an abundance of options to maximize your experience in every possible way.
The Ford F-150
When you want strength, versatility, and the assurance that comes from the Ford name, there aren't many trucks that can compete with the F-150. You'll find that even models a few years old will offer you everything you're looking for in a truck, in addition to a more reasonable price tag. Take 2015 models, for example, as you can enjoy modern styling, a reinforced frame, and an arsenal of tech offerings that make staying connected and entertained during your journey effortlessly simple. Its legendary SYNC 3 infotainment system receives an upgrade in 2016 models, where you'll also be able to find enhanced trailering tech as well.
The F-150 has continued to improve throughout the years, and its 2017 model is a perfect example of this—with a 10-speed automatic transmission added into the mix, as well as even more tech, including a 4G LTE WiFi Hotspot available. When you want to enjoy even more contemporary styling, the 2018 F-150 sports a refreshed exterior, donning an updated grille, bumpers, wheels, exterior lighting, and more. You'll find that a diesel engine is now available in certain 2019 models, as well as a coveted Appearance Package, which offers a slew of new exterior colors and five-inch step bars to enhance the appeal of this extraordinary truck.
For many, opting for models only a couple of years old gives them the chance to enjoy some of the most modern features for a much more affordable price tag. If you're shopping for a used truck that offers groundbreaking tech, outstanding capabilities, and modern style, the 2020 models will impress you with features like the Power Stroke turbo-diesel engine available on certain trims, as well as new Co-Pilot360 driver-assist features. Opt for the 2021 model for a completely refreshed design inside and out, showcasing sleek modern style, enhanced SYNC 4 infotainment software, and many more incredible features just waiting to wow you. The F-150 has been a force in the industry for years, and whether you're looking at a model a few years old or from just last year, you'll find that there are many features to make your time in the driver's seat more exciting.
The Toyota Tundra
The Toyota name emanates reliability, safety, and excellence, and when you're searching for a truck that delivers a compelling ride, the Tundra belongs in a class all its own. Toyotas are known to hold their value among the best around, which means that no matter what model year you're looking at, you'll enjoy unmatched quality no matter what. Choosing Tundra models from 2015 not only allows you to take advantage of substantially lower sticker prices, but you also get to enjoy a standard 4.6L V8 or an available 5.7L V8 for optimal performance in any driving situation. Outfit your Tundra with the legendary TRD Off-Road package and explore more with thrilling off-road capabilities designed for adventure.
Like the Silverado and the F-150, the Tundra has received various style upgrades throughout the years by way of enhanced exterior elements and more comfortable interior features. Models from 2016 provide you with an upgraded Entune audio system, and those from 2017 add even more alluring aspects to its higher-level trims, including power-adjustable seating and an available power sunroof. More standard safety equipment is added to 2018 models through Toyota Safety Sense, including lane departure warning, adaptive cruise control, and other helpful features designed for more confidence behind the wheel. For those who crave adventure, the TRD Pro package rejoins the lineup for 2019, featuring enhanced shocks, 18-inch wheels, a reinforced skid plate, and many other rugged elements to maximize your time on the trails.
Recent models feature even more refined style through leather seating surfaces, front bucket seats, and premium appointments in top-level 2020 models. You'll also find that these models showcase added convenience features, such as push-button start, in addition to must-have tech, like Apple CarPlay and Android Auto integration. The Nightshade appearance package joins the 2021 lineup, offering intense style, including 20-inch alloy wheels, sleek black accents throughout, and black leather upholstery inside. The 2021 Tundra also showcases a Trail Special Edition for those seeking ultimate adventure, offering all-weather floor mats, exclusive badging, and all-terrain tires for maximum exploration. From its sturdy, dependable design to its highly capable engine, the Tundra is a solid choice for those who want to enjoy outstanding value and a variety of features that you can only find in a Toyota.
The Ram 1500
Ram knows how to design trucks that work, whether you're seeking an ultra-tough workmate or an upscale traveler. With a diverse selection of trims, you can get the Ram that works for your travels, and when you want to enjoy exceptional value, there's no better choice than a used Ram. Even older models will offer you intense options that can't be beaten. For instance, you can expect a bump in power when you opt for 2015 models, with the ability to tow up to 10,700 lbs.
A stronger build awaits in 2016 models, as you can enjoy a more durable frame and body style, and when you want to harness maximum adventure, nothing beats the Rebel. In addition to heightened off-road abilities, Rebels from 2017 feature enhanced technology upgrades, including an 8.4-inch touchscreen, as well as a backup camera, rear park assist, and other convenient elements to make any drive more focused. If you're looking for sophisticated style, a number of special editions from 2018 may be perfect for you, which feature upscale elements, like a leather interior, sculpted exterior features, and more style throughout.
The Ram 1500 received a comprehensive redesign in 2019, offering a selection of three powertrains, multiple trim levels, and cutting-edge tech through an available massive 12-inch touchscreen. If you're searching for contemporary styling, loads of power, and state-of-the-art tech, the 2019 models won't let you down.
Opting for newer models will allow you to enjoy a more comfortable cabin and helpful driver assistance features like those found in the 2020 models. You'll also find more upscale design elements in recent models, including power-adjustable seating, heated rear seats, and convenient features like a power tailgate release for maximum productivity. The intimidating TRX makes its debut in 2021, showcasing extreme power through its Hellcat engine, as well as intense off-road capabilities. You can also find special editions, like the Limited Longhorn 10th Anniversary edition, which features beautiful appointments inside, exclusive badging, and more specialized elements throughout. When you want power and style blended seamlessly together, perhaps no truck can do this quite like the Ram 1500.
The Chevy Colorado
Although the Chevy Colorado was first introduced in 2004, it went on a three-year break after the 2012 model year and returned with an impressive redesign for the 2015 model year. These vehicles kicked off the second generation of the Colorado with new engine options, including a 200 hp 2.5L four-cylinder, along with a stunning interior and exterior update for its return. The 2016 Colorado built on everything we loved about the previous year, including options for either a crew cab or extended cab, both with four doors. Late in 2016, Chevy added an available 2.8L turbo-diesel engine, so keep that in mind when looking at different used Colorado models.
For 2017, Chevy took the Colorado to the next level by introducing the off-road-focused ZR2 trim. Since its introduction, the ZR2 has become the gold standard for off-road trucks, including a 2-inch suspension lift, skid plates to protect the underside and nearly 9 inches of ground clearance. After introducing the ZR2 trim, the 2018 model needed few updates, though it did have available heated outside mirrors, some new color options, and an available Active Tow function that makes it easier to align with a trailer while in reverse.
The 2019 Colorado was updated with an improved Infotainment system along with improved safety options – the ZR2 Bison was added to provide even greater off-road functionality. There were few changes for 2020, though a remote-operated tailgate lock became available, as Chevy prepared for a major update the following year. For the 2021 model year, the Colorado received a facelift and refresh, including a new grille, front bumper, and tailgate for a bold and powerful look. The Infotainment system was updated on most models, while a 1-inch front leveling kit became available as a dealer-installed option.
The Ford Ranger
The Ford Ranger has been around since the early 1980s and, during that time, has earned a reputation for impressive performance at a smaller size than a model like the F-150. From its debut for the 1983 model year through 2011, the Ranger was a compact truck for three generations until Ford stopped producing it for several years. After nearly a decade, however, the Ranger came back for the 2019 model year as a midsize pickup in order to better meet the needs of American truck owners.
When it returned for the 2019 model year, the Ranger came with an impressive 2.3L turbocharged 4-cylinder engine that made a clear statement: Ford was serious about giving the other midsize trucks on the road some real competition. Both an extended cab and a crew cab were available, as was four-wheel drive though rear-wheel drive was standard, which is typical for these types of trucks. The impressive engine came with a 10-speed automatic transmission, plus the available FX4 off-road trim ensured the Ranger could compete with the other trucks out on the trail. Overall, the only real complaint some people had with the Ranger's return was that the standard interior felt a bit dated, but higher trims were quite impressive.
Following its re-release the previous year, the 2020 Ford Ranger did not have many huge changes, though a new FX2 package was offered that included off-road tires and special decals to give it a distinct look. New exterior colors also became available for 2020, including Rapid Red Metallic Tinted Clearcoat, so these are some of the most stunning pickups out there. Off-road packages were further expanded on the 2021 model with the addition of a Tremor Off-Road package with a lifted suspension and upgraded shocks designed to compete with the Chevy Colorado ZR2.
The Nissan Frontier
The Nissan Frontier is one of the most popular midsize trucks on the road; it has been available since 1998, and it has only had three generations during that time. Perhaps most remarkable; however, the Frontier's second generation lasted from 2005 to 2021, with only a single major facelift and update. While some might look for big changes every year, this kind of consistency makes it easy to look at different used Frontier models and find just what you need. The 2015 Nissan Frontier did have some standout improvements, however, including an updated multimedia system in some models and a 5-inch color display.
Changes for the 2016 model year were minimal, including more models featuring a moonroof, so you will find more of them out there when looking at used Frontiers from that year. Like the previous year, the PRO-4X trim remains a fantastic option if you are looking for an off-road midsize pickup. Changes for 2017 and 2018 were similarly minimal; we should mention that the Frontier had an I-4 and a V6 engine available, so you will find both of them when looking at models from these years. For 2019, Nissan started making some impressive updates, including a 7-inch Infotainment display that became standard on every model.
The 2020 model year was particularly important for the Frontier as Nissan used it as an opportunity to start showing off what was to come: a new 3.8L V6 engine delivering 310 hp for impressive performance both on and off the road. This powerful engine was paired with a 9-speed automatic transmission and several updates from where this generation had started some 15 years prior, including keyless entry, push-button start, and available dual- zone automatic climate control. The 2021 model year brought the second generation of the Nissan Frontier to a conclusion with all of the same great options from the previous year, paving the way for an all-new, third- generation Frontier in 2022.
The Toyota Tacoma
First released for the 1995 model year, the Toyota Tacoma has been a popular midsize pickup for more than 25 years, and it shows no signs of slowing down, so you will find many great options when shopping for a pre-owned Tacoma. The 2015 model year marks the very end of the second generation for the Tacoma, so these models are not quite as up-to-date as some other options, but they featured an impressive V6 engine and great standard safety features. For the 2016 model year, Toyota launched an updated, third-generation Tacoma with a refreshed interior and a retuned suspension that provides a better ride than previous years.
The 2017 Toyota Tacoma continued what the previous year introduced, including a 4-cylinder and V6 engine available, but added to this with a new TRD Pro trim. If you are looking to go off-road in your midsize truck, then a TRD Pro Tacoma has capability comparable to models like the Chevy Colorado ZR2. For the 2018 model year, the Tacoma remained largely the same, though several advanced safety features, including a Forward Collision Warning, Pedestrian Detection, and Automatic Emergency Braking, all became standard on every model. Updates for 2019 were similarly minor, though the interior was refreshed with a few upgrades, such as a pair of USB ports, while the TRD Pro gained a few cosmetic additions.
For the 2020 model year, Toyota gave the Tacoma a refresh, with a number of updates, including a new grille, revised tail lights, and available LED headlights. A 7-inch Infotainment display became standard on the 2020 Tacoma, with an 8-inch screen available, along with a 360-degree camera system. After its big update for 2020, there were few changes for the 2021 model year; an exclusive Tacoma Trail Edition was offered in limited numbers with some unique details inside and out, like black upholstery with tan contrast stitching.
Maintenance Intervals and Tips for Maintaining Your Truck
Once you've found the perfect used truck, it is important to be consistent with all necessary maintenance requirements. When you purchase a used truck, this is even more important because you want to do everything possible to extend the truck's longevity, as well as your safety on the road. This starts with setting up a regular maintenance schedule and keeping an eye out for signs of wear and tear.
Maintenance Intervals
Oil Change and Fluid Checks: Refer to your owner's manual for the recommended mileage or time interval. Typically every 6 months or 7,500 miles. Have other fluids (transmission, coolant, brake, differential, power steering, etc.) checked at the same time.
Spark Plugs: Replace anywhere between 60,000 to 100,000 miles.
Air Filter: Refer to your owner's manual for the recommended mileage interval. Typically every 10,000 miles depending on the environment with dusty conditions requiring more frequent changes.
Maintenance Tips
Tires: Visibly inspect your tires for damage, uneven wear, and adequate pressure regularly, as these can create unsafe driving conditions.
Oil: Do not skip routine oil changes since engine oil breaks down over time and can limit your truck's performance.
Rotations: Regularly rotate your tires to improve your truck's fuel economy and prolong the life of the tires and your truck's suspension.
Exterior: Keep the truck's exterior clean to protect the paint against damage from debris like sand, salt, or mud.
Our Team Will Find You the Perfect Used Truck
If you're contemplating buying a new or pre-owned pickup truck, there's no better place than Richard Lucas Chevrolet. We are truck experts, and our team of highly trained sales consultants knows how to help you navigate your options to zero in on the perfect choice. We will ask all the right questions to understand what you expect and need from your truck, then guide you to the one that ticks all the boxes. There's a reason our customers keep coming back every time they're ready to buy a new car: we believe in transparency, upfront prices, and we work hard to ensure your purchase experience is hassle-free. Our goal is to provide a relaxing and fun experience, so you drive home with a smile on your face and a few extra dollars in your pocket.
Our team of finance experts will work closely with you to find the best and most competitive financing and lease rates around. Due to our large sales volume, we have access to several lenders. That means we will find a plan that works for any credit score and down payment. Our efficient process gets you out the door faster, so you can enjoy your new vehicle. After the sale, we welcome you to bring your new vehicle to our state-of-the-art service center for maintenance and repairs. We have a staff of factory-trained and certified technicians who can perform everything from a simple oil change to more comprehensive repairs. We also keep a fleet of loaner cars for your convenience, or if you choose to wait, we welcome you to relax with free WiFi and refreshments in our guest lounge.
We're standing by to assist you with all your driving needs, and we can't wait to welcome you in. Give us a call today, or better yet, stop by our beautiful showroom in Avenel. We are the Chevy experts, and we'll put that knowledge to work for you. Whether you're buying, leasing, looking for high-quality service, or just stopping by for a part, you can trust the team at Richard Lucas Chevrolet. We're your one-stop shop, and we're here to help!
Come Check Out Our Impressive Used Truck Selection At Richard Lucas Chevrolet
Buying a used truck doesn't have to be confusing. Sure, there are many options, and it can seem overwhelming to zero in on the exact truck with the specifications necessary to get the job done, but with the right partner, it's easy and even enjoyable. Choose Richard Lucas Chevrolet, and let us do the hard work for you. Thanks to constant innovation at the factory, today's pickup trucks are designed for work and play. Whether you're looking for a simple, inexpensive work truck or a fully-loaded luxury people mover, the Chevrolet Colorado and Silverado 1500 lineup has an answer. Choose from dozens of configurations, including different engines, towing capabilities, and trim levels, and get everything you need at a price that makes sense for your budget.
We are Richard Lucas Chevrolet, and our team of Chevy experts is here to guide you through the purchase process in a relaxing and hassle-free environment designed to make the experience fun. Buying a new or pre-owned truck should be exciting, not stressful. That is why at our dealership, you'll never feel pressured or rushed, and you'll buy on your terms. Our team is standing by to assist you, so give us a call today or stop by our showroom. We can't wait to help you buy your next new or pre-owned pickup truck.