USED COMMERCIAL VEHICLE DEALER
How much does your business rely on transportation in its daily operations? Whether you run a local delivery service, oversee a team of contractors or service technicians, or manage the fleet of a utility company, your search brought you to the right place. Richard Lucas Chevrolet is proud to be your used commercial vehicle dealer and will do everything possible to get your business on the road and running smoothly.
Here at Richard Lucas Chevrolet, we realize that running a business is incredibly rewarding and often demanding. Business owners like yourself already have a lot to worry about and a jam-packed schedule, making the prospect of updating your fleet of commercial vehicles overwhelming and stressful. As veterans in the automotive business, we know that your time is valuable, and that's why we're here to help carry the load and ensure shopping for a used commercial vehicle is straightforward and hassle-free.
Our straightforward approach starts with our extensive inventory of used commercial vehicles that will take your business to the next level. We hand-select and thoroughly vet every model, giving you the confidence to shop off our pre-owned lot and eliminating the need to shop at multiple dealerships to find the best option for your business. It's right here; we guarantee it!
Along with finding the perfect commercial vehicle for your business, you'll find our competitive pricing guarantees you're getting the best price every day of the year. Why is this important to us? It's our way of saving you money that you can reinvest in your business and your future in the community. When you succeed, our community thrives.
So, what commercial vehicle is best for your business? Will a commercial van or truck better suit your needs? We're here to help you answer that question! From commercial vans to commercial trucks, here's everything you can find at Richard Lucas Chevrolet.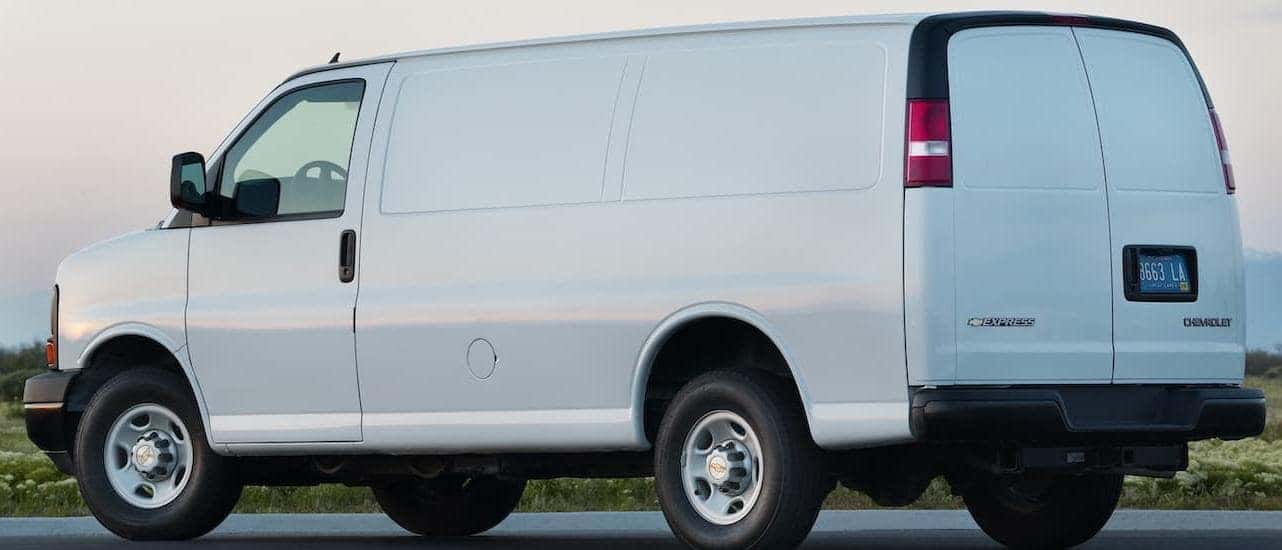 Meet Our Used Inventory: Commercial Vans
Commercial vans tend to be grouped in one category, but you'll soon discover that every van meets a unique set of needs. For example, some are better suited for hauling cargo, while others are ideal for carrying passengers. So, what commercial van is best for your business?
You'll find options like the Chevy Express Cargo Van and the Ford Transit Connect Cargo Van in our inventory. The Chevy Express Cargo Van's versatile design with its standard rear swing-out doors and hinged cargo doors make it ideal for hauling equipment and freight. Contractors, electricians, and plumbers will find the van incredibly useful, especially when upfitted with interior racks and storage systems that accommodate tools, equipment, and other work-related items. Ford's Transit Connect Cargo Van is also impressive and offers many of the same features, including accessories like racks, bins, ladder racks, and partitions that allow you to retrofit the van to your business's specific needs.
If your business relies on hauling passengers, you'll want to look for passenger-friendly options like the Ford Transit Connect Passenger Wagon and the Chevy Express Passenger Van. Ford's Transit Connect Passenger Wagon is renowned for offering one of the most spacious interiors in the segment, courtesy of its high roof design.
Ford also gives you plenty of options for customization with models like the standard Transit Connect, the extended length XL Passenger Wagon, the XLT Passenger Wagon, and the luxurious Titanium Passenger Wagon. Chevy's Express Passenger Van is also impressive, with many models offering seating for anywhere between 12 to 15 passengers. Amenities like rear air conditioning ensure your passengers are always comfortable, earning your business even more praise from happy customers. Like Ford, Chevy gives you several options for configuring the Express Passenger Van that optimizes the space for passengers and cargo. You'll even find a few different powertrain options, making it easy to find the Express Passenger Van that delivers the power you need wherever business takes you.
Meet Our Used Inventory: Commercial Trucks
If your business can't benefit from the spaciousness of a commercial van, then you'll undoubtedly want to consider a commercial truck. The most exciting perk to shopping for a commercial truck is discovering that your business can benefit from many award-winning pickup trucks that you already know and love. For example, your construction company can easily rely on a commercial workhorse like the Silverado HD or the F-150. Or perhaps you need more efficient options like the Chevy Colorado, Ford Maverick, or Ford F-150 Lightning to transport your technicians and contractors from one client or job site to another without spending a ton on fuel.
Traditional trucks like these are easy to integrate into your business. They're already well-equipped and ready to work, which means less downtime for your day-to-day operations. But what if you need something more than a standard work truck? We've got you covered.
Our inventory of commercial trucks includes various chassis cabs and cutaways that allow you to customize your commercial truck specifically to the needs of your business. For example, the Chevy Express Cutaway is a versatile option that can be upfitted in several unique ways. It can serve as a utility or service truck or as a shuttle bus to get your passengers from Point A to Point B. Chevy's Low Cab Forward is versatile in a much different way since it's tailored specifically to cargo. You can upfit the Low Cab Forward with a covered box for hauling delicate cargo, a flatbed for moving freight and wholesale items, or a slotted bed for carrying tools and equipment.
Along with these unique options, you'll also find heavy-duty models like the Chevy Silverado 3500, 4500, 5500, and 6500 HD and the Ford F-650 and F-760. Ford offers its F-650 and F-760 as chassis models that can be upfitted as heavy-duty workhorses like dump trucks or tow trucks. But, of course, your options don't end there. Chevy and Ford guarantee a variety of upfits, whether you're looking to add a snowplow, ambulance, spreader, or another workhorse to your fleet. You'll find it all in a used Chevy or Ford commercial truck right here on our lot.
Let Richard Lucas Chevrolet Help Your Business Grow
For anything you could need, Richard Lucas Chevrolet is here to help your business grow and flourish. Our inventory of used commercial vehicles speaks volumes about our commitment to our commercial customers.
We're in the business of helping your business succeed!
Part of helping you succeed is being there for all your automotive needs. Our sales and finance teams are exceptional at helping our commercial customers, but our work doesn't stop after the sale. Our factory-trained service technicians are some of the best in the business. They're here to handle all your routine maintenance and repair needs, ensuring your commercial vehicle continues to serve your business for many miles and years ahead.
So, are you ready to upgrade your fleet and take your business to the next level? Before you do, we have one last question for you: why settle for second best when you can shop with the best? It's time to get your business back on the road, and there's no better way to do that than with Richard Lucas Chevrolet. What are you waiting for? Come see us today!