STATEN ISLAND USED CHEVY DEALERSHIP
Are you in the market for an affordable and reliable vehicle that can easily take you from your daily commute to your weekend adventures? What if we told you that one automaker could deliver all that and more? As your Staten Island used Chevy dealership, the team here at Richard Lucas Chevrolet certainly knows a thing or two about the Chevy brand and is happy to share everything we love about Chevys and more.
If you're shopping for a used car, then you already know the benefits of purchasing a pre-owned model. In addition to saving thousands of dollars off the sticker price, you'll also avoid the rapid rate of depreciation that plagues every new car. This puts even more money in your wallet, which means more money to spend on doing what you love. But why should you shop with us, and what makes Chevy a great brand to buy used? We'll answer those questions and highlight a few benefits of shopping at a reputable dealership like ours to help you start your search for the best used Chevy for your driving and lifestyle needs. Let's dive in!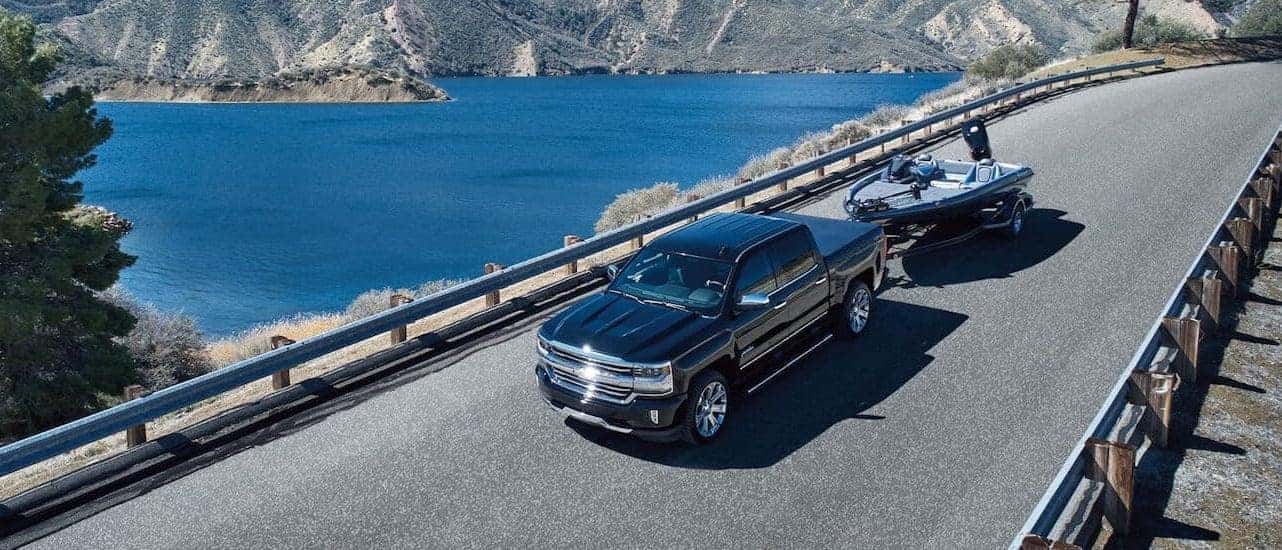 What Makes Us a Great Used Chevy Dealership?
What makes Richard Lucas Chevrolet a great used Chevy dealership for Staten Island drivers? We believe our customers deserve the best experience and service imaginable, which is what you'll get the moment you drive onto the lot. Our friendly employees will show you around our extensive inventory of used Chevys that we've hand-picked to ensure our selection offers a variety across all budgets and driving needs, whether you're looking for a used car, truck, or SUV. What's even better than our incredible selection of used Chevys is that there is no guesswork when it comes to our prices. Our Easy Price Promise is our guarantee to offer upfront pricing withabsolutely zero hassle. Our customers leave with smiles on their faces because they know they got the best deal in town.
Another great reason to shop with us is our commitment to you long after your purchase. We want your vehicle to run its best, and that means we're here for all your maintenance and repair needs. You can also rest assured knowing that we're here, right across the bridge, to ensure your vehicle is running at its best with free lifetime multi-point inspections. This includes inspections of fluid levels, belts, hoses, undercarriage, exhaust, steering, suspension, and wiper blades.
We know that it can be stressful and inconvenient when your vehicle is in the shop, which is why we go the extra mile to minimize that inconvenience. We have a huge inventory of loaner cars available to keep you on the road while our certified techs are busy working on your car, truck, or SUV. If it's a quick fix, you can hang around the dealership without sacrificing your productivity or comfort, thanks to our complimentary Wi-Fi and refreshments.
You Need a Used Chevy
Whether you are shopping for a sedan like the Malibu, an SUV like the Tahoe, or a workhorse like the Silverado, you can't go wrong when it comes to a used Chevy. Chevy's reputation for building innovative, reliable, and powerful vehicles is one that's been in the making since the automaker got its start in the early 1900s. This is also one of the biggest reasons why shopping for a used Chevy is a great option because you know exactly what you're getting with the Chevy brand.
Chevy's commitment to innovation is more than the addition of the latest tech features that are meant to keep you connected even when you're on the road. Chevy's innovation extends to its safety features, with Chevy consistently earning top safety scores from the National Highway Traffic Safety Administration (NHTSA) and the Insurance Institute for Highway Safety (IIHS). For example, the 2021 Trailblazer is an IIHS Top Safety Pick+ and joins several other Chevy models that have won that prestigious award. Features like Automatic Emergency Braking, Rear Cross Traffic Alert, Side Blind Zone Alert, the rearview camera, and advanced airbags make buying a used Chevy a great and safe option.
In addition to safety, you'll also discover that Chevys are designed with you in mind. Whether you are looking for a sedan like the Malibu, a small-size SUV like the Equinox, a full-size SUV like the Suburban, or a truck like the Silverado, you'll find everything you need to get around Staten Island in our used Chevy lineup. It's even better that these functional vehicles are not only designed to work for you, but they're also safe, innovative, and affordable. This is what makes shopping for a used Chevy an attractive option if you're looking for a great value vehicle that will serve you for many years. Here are some of the top used models you can find on our lot.
Used Chevy Silverado 1500
If you're in the market for a tough pickup truck, there's no better model out there than the Silverado 1500. This strong truck offers stellar capabilities, incomparable power, and a durable build to help you plow through the day's work easily. The Silverado 1500 got its start as a standalone model in 1999; however, that wasn't the first time the name was heard. It originally debuted as a trim level in 1975 but became so popular that Chevrolet decided that it deserved to be a model all its own.
Since this truck has been around for quite a while, there are a number of model years that are perfectly suited to deliver the kind of ride you desire. Third-generation Silverado 1500 models from 2014 through 2018 boast favorable upgrades, including more upscale interior features and multiple engine options to appeal to any type of travel or work need. Opting for even newer models from 2019 and on allows you to enjoy a lightweight platform that enhances performance and efficiency. No matter which model year you pick, you're able to take advantage of top towing marks, spectacular payload capacity, and dependability that is unmatched by its rivals.
The Silverado 1500 is a phenomenal truck to have on the job site or on the highway, with a versatility that's difficult to find in other trucks on the road. It's a trusted workhorse, capable commuter, and everyday truck that works for a vast array of Staten Island drivers. Due to this type of flexibility, as well as a strength that can't be replicated, the Silverado 1500 continues to be a top performer in our Chevy inventory.
Used Chevy Equinox
Another crowd favorite is the Chevy Equinox, the best-selling SUV offering from the brand. When it first emerged onto the scene for the 2005 model year, the Equinox was a midsize SUV known for its rugged good looks and pleasing adaptability. Over the years, it steadily gained popularity with families and travelers who needed more room than a traditional sedan could provide but who didn't want a large, cumbersome vehicle to have to maneuver all over town. The answer to their needs was the Equinox SUV. There are plenty of used models to choose from, which makes finding a used Equinox with the features and capabilities you desire easier than ever.
The Equinox delivers practicality to your drive, with your choice of engines, as well as available all-wheel drive capabilities to make for a safer and more controlled ride, even in bad weather.
Choosing newer models will allow you to enjoy more driver-assist features and safety options, which is a win for Staten Island drivers looking for the right vehicle for their families. The Equinox handles like a car but offers the space of an SUV, which is the perfect combination for anyone searching for an easily manageable SUV to help them get through New York City safely and confidently.
Used Chevy Traverse
When you take the most desirable sized SUV for families, design it with ample interior space, premium features, and impressive power, add a third row of seating, and put the acclaimed Chevy badge to it, you get the Chevy Traverse. Although it may be a midsize crossover SUV, the Traverse is built to be at the top and has been since the beginning. The Chevy Traverse debuted for the 2009 model year as a three-row, looking quite similar to a minivan with its rounded design, appealing to drivers with its roomy and welcoming interior and powerful performance.
For the 2018 model year, the second-generation design hit the market, and the Traverse morphed into an attractive, blocky, and athletic truck-like minivan alternative. It still has enough seating for the whole family—up to eight people, to be exact—with some of the best passenger legroom and volume ratings in its class. Not to mention the slew of features and technology the Chevy Traverse has to offer all of its passengers. Plus, with several trims to choose from, you can tailor the look and comfort level of your SUV around you and your family's specific needs. And since the Traverse sits on a unibody chassis, even though it has the towing capacity of a small truck, it rides like a sedan, so you can always expect an enjoyable experience wherever the road takes you.
Used Chevy Suburban and Chevy Tahoe
When hauling around more passengers and cargo is on the agenda, Chevy has a selection of large SUVs designed to take these tasks head-on. The Suburban has been a trusted family hauler for generations, offering a cavernous interior and tons of power, with the Chevy spirit emanating throughout. With the ability to seat nine when properly configured, the Suburban is perfectly capable of accommodating Staten Island drivers who require more space in their vehicle. Sticking to model years just a couple of years old will allow you to take advantage of cutting-edge tech and safety features, a more comfortable cabin, and a powerful and efficient available diesel engine. Rest assured that if your travels warrant one of the largest SUVs around, the Suburban is a top option, designed to handle more.
In addition to the massive Suburban, the Tahoe is another exceptional model in the Chevy arsenal, making its debut in the 1990s. If the Suburban is a bit too large for you to handle on the city streets, the Tahoe is a great option, offering seating to accommodate seven to nine passengers, depending on the configuration, and plenty of cargo space to handle all of your gear. If you're interested in a used Tahoe, fourth-generation models are highly advised, as you're able to enjoy beautiful styling, pleasing efficiency, and innovative tech designed to make your ride more connected. For the drivers out there who need space in their SUV, these two used Chevy options will deliver that and so much more.
Used Chevy Trailblazer
You may have previously heard of the Trailblazer nameplate. Chevy has used the name multiple times over the years, originating as a premium trim level for the Blazer in 1999. But the older versions don't even compare to the Chevy Trailblazer we're referring to. The body-on-frame TrailBlazer (with a capital "B"), which was part of Chevy's lineup before the current version, was more trail-ready than the modern Trailblazer since it sat on a Chevy Colorado truck chassis with either four-wheel drive. While the 2021 model and newer may not perform as well as previous variants off-road, a used Trailblazer is a perfect blend of comfort, performance, and capability for Staten Island drivers. The fun-size design is for more than just appearance. It allows for easy maneuverability on narrow roads or in congested traffic, taking some of the stress out of driving in New York City. And with your choice of two turbocharged engines, the Trailblazer delivers better fuel economy than its smaller sibling, the Chevy Trax. When equipped properly, the Trailblazer can even tow up to 1,000 lbs. More importantly, although it might not be built to handle the deep woods like the larger SUV that used to carry the nameplate could, the crossover Trailblazer remains a versatile utility vehicle for urban families.
With comfortable seating for up to five people, the Trailblazer makes for a great passenger vehicle with ample interior cargo space, a satisfying amount of comfort and convenience amenities, and tech features. Plus, with the option for all-wheel drive, you can conquer any road conditions. So if you like to spend your vacations outside of the city visiting campsites and finding little-known hiking trails, you don't need a larger vehicle that won't fit the streets of Staten Island.
Used Chevy Colorado
For the perfectly sized urban truck with optimal efficiency, the Chevy Colorado is a superior choice. As a bonus, it's the least expensive truck in Chevy's lineup, making it even more attainable as a used model. It is also one of America's favorite midsize trucks, and we're going to explain to you how it became so favorable to drivers just like you.
The Colorado entered Chevy's lineup as a compact truck for the 2004 model year with multiple cab configurations and powertrains to oblige any driver looking for a small truck with big-time potential. The second-generation Chevy Colorado grew and upgraded into the midsize segment with a more spacious and accommodating cabin that can seat up to five passengers with the crew cab models, still with plenty of customizable options. It's even available with your choice of either a gasoline or diesel engine for customizable capabilities and performance.
For the Colorado that performs as well off-road as it does on, look for a Colorado ZR2. The trail-ready ZR2 trim was introduced in 2017 for the Colorado and the more rugged ZR2 Bison edition in 2019. Not only do these Colorados look more intimidating than other trims, but they are built for the rough terrain. They include off-road specific features and equipment, plus body armor, on top of higher ground clearance, to deliver the best performance off the pavement. If you've always wanted to take to the trail at some of New York's best off-road parks, this is the truck for you with better fuel economy than larger off-road vehicles.
Used Chevy Blazer
The Chevy Blazer has a rich history, dating back to the 1960s, with the debut of the very first K5 model, boasting a rugged design that was built to explore. After decades on the market, the Blazer was eventually discontinued in the early 2010s, but it wouldn't be long before the Blazer was back in the Chevy lineup. In 2019, the Blazer returned, only this time, it showcased sweeping curves and handsome styling, elegant interior features, and an air of superiority around it that couldn't be denied. The best part about shopping for a used Blazer is the diverse selection you get to enjoy, from rough and tumble favorites of the past to the new-age sophisticated models of its rebirth. Models from 2019 and newer will, of course, showcase a more graceful stance as opposed to older models. You'll be able to take advantage of Camaro-inspired design elements, a spacious and refined cabin, and an engine selection that offers suitable power for your journey. Whether you're looking for a commuter vehicle to get you around Staten Island or something to take you on your next adventure, the Blazer's versatility appeals to many different types of drivers. Its style is unique, but that's to be expected with this Chevy favorite. Whether you want to enjoy a sleek design with its newer models or you'd prefer to own a piece of history, there's undoubtedly a used Blazer available to suit your needs.
Used Chevy Malibu
Although it no longer sports the elongated shape that defined it in the 1960s, the Malibu is still very much a crowd favorite in the Chevrolet lineup. This midsize sedan is holding its own amongst the SUVs and trucks on the road today, recognized for its stylish and athletic appeal, spacious interior, and excellent ride quality. It's regarded as an exceptional family car, with a roomy trunk, durable build, and an abundance of safety features, especially when opting for newer models. Currently in its ninth generation, the Malibu is one the oldest sedans still being manufactured today, and if you're looking for a used car you can depend on to deliver an exciting ride and more, the Malibu is ready to wow you.
Easy to maneuver in the tight parking spots or packed city streets of Staten Island and remarkably efficient, especially with the hybrid powertrain available in newer models, the Malibu showcases a pleasing ride, no matter where the destination lies. Multiple trim levels are available, ranging from the simplistic to the refined, while comfortable seating and impressive legroom allow all on board to relax and enjoy its dynamic ride. Undeniably safe, earning top nods in safety testing on many of its models, the Malibu really does offer drivers everything they're looking for in their travels, all wrapped up into one easy-to-handle package.
Used Chevy Silverado 2500 HD and Chevy Silverado 3500
HD Sometimes the standard full-size pickup just isn't enough for the heavy weight you need to carry or tow around. Whether you're looking for a work truck or personal vehicle that can handle more than a half-ton pickup can, that's where the Chevy Silverado HD comes into play. You'll have plenty of interior passenger space and an abundance of advanced technology with both the Silverado 2500 HD and the 3500 HD to complement the additional power and strength, but since they're focused on heavy-duty on-road capability rather than high-performance pavement and off-road capability, you'll have fewer trims and powertrains to choose from than you would with the Silverado 1500. The powertrains you can expect to find under the hood of both of these heavy-duty trucks consist of robust V8 gasoline or turbo-diesel engines with either two-wheel or four-wheel drive. Since they share the same powertrains, you might be wondering what distinguishes them from each other. Well, it's their suspension.
The Silverado 3500 HD is built with a more rugged suspension and is even available with dual rear wheels to help carry heavy loads. This allows it to tow up to double the weight that the Silverado 2500 HD can. So if you're looking for a used heavy-duty truck with the highest towing ratings, opt for the Silverado 3500 HD. But for a more comfortable ride, go with the lighter Silverado 2500 HD.
Benefits of Shopping at a Reputable Dealership
There are numerous benefits to shopping for a used Chevy, but did you know that it's also important to shop at a reputable dealership like Richard Lucas Chevrolet? Our reputation for delivering an exceptional vehicle-buying experience is something we're proud of and is why we go the extra mile to ensure you drive home to Staten Island happy in a vehicle you love. This isn't the case for many dealerships, which are more focused on making the sale than what you as a customer want and need in a vehicle.
Another benefit to shopping at a reliable dealership is having confidence in your purchase. When you shop with Richard Lucas Chevrolet, that confidence blossoms as you look at our inventory of used Chevys that we hand-picked to match a variety of customer needs. The experts on our staff know the ins and outs of every model and can answer all your questions. You'll also find that the certified technicians in our service department can handle all your maintenance and repair needs, which adds convenience since we can do it all under one roof.
Finance Your Used Chevy Here
Even though choosing a used vehicle is the most budget-friendly option, when you have bad credit or no credit at all, buying a vehicle can still seem like an unattainable dream. But you don't have to let your previous credit mishaps get in the way of you getting behind the wheel of your dream vehicle. Richard Lucas Chevrolet is here to help you with that.
All it takes is one mistake. Missing just one payment can destroy your credit. We're not just talking about a late or missed car payment either. Even skipping out on paying the mechanic for the work they did on your current vehicle to get it back on the road one last time can affect your credit score drastically. Mistakes happen. We get it, and we know how hard it is to fix bad credit scores and build new credit, which is why we chose to be one of the few dealers willing to help Staten Island drivers who have inadequate credit.
Many dealerships and lenders will turn you away because of unsatisfactory credit scores. You may have even already experienced this. Well, we're here to change things for you and make your dream a reality. Whether you're looking to buy a brand new or a quality pre-owned Chevy, here at Richard Lucas Chevrolet, we'll finance a vehicle for you no matter what your credit score numbers look like. With our Bad Credit Program, we make buying a vehicle a possibility for every driver, including those who have been repeatedly turned away by other Staten Island used Chevy dealerships because of past credit mistakes or simply a lack of credit history. Avoid another loan rejection and start building up your credit by financing your next Chevy through us.
Directions From Staten Island to Our Dealership
Our dealership is conveniently located less than 20 miles from the heart of Staten Island. The fastest route is to take Korean Veterans Parkway and US 9 N, which takes approximately 25 minutes. The shortest route is roughly 14 miles and takes you via I-278 W and US-1 S/US 9 S. Or, you can take I-278 the entire way for a 30-minute ride. The times and distances may change depending on where in Staten Island you start, but either way, it is a quick drive to our dealership.
Here's a closer look at the fastest route beginning from the heart of Staten Island in Latourette Park on Richmond Hill Road. Travel down Forest Hill Road until you reach Costco Wholesale, where you will turn left on Richmond Avenue. You'll travel approximately 0.5 miles before making a slight right on Drumgoole Road W. Watch for signs for Korean War Veterans Parkway S/Outerbridge Cr.
Travel 3.9 miles down the Parkway, which will turn into NY-440 S as you enter New Jersey. You'll drive approximately 2.5 miles before taking Exit NJ-184 W/Pfeiffer Blvd, which will then take you to US 9 N in Woodbridge Township. From US 9 N, you'll take a slight right onto S Inman Avenue and then take the ramp to New Brunswick, which will loop around the highway to put you on US 9 S. Then, you'll want to turn right onto Douglas Ave and follow the road until you see us on your left.
Visit Richard Lucas Chevrolet Today! With Chevy's commitment to innovation and its reputation for building reliable workhorses, there's no question that buying a used Chevy is a great decision that will put more money in your wallet. If you've made the decision to shop for a used Chevy, then it's time to head on over the bridge to our dealership. The team here at Richard Lucas Chevrolet is ready to deliver a car-buying experience you won't find anywhere else.
With our Easy Price Promise, we guarantee upfront pricing and zero hassles that make buying a used Chevy an enjoyable experience. As one of our customers, you'll also reap the benefits of our VIP program and see firsthand why we're a one-stop shop for all your Chevy needs. So, are you ready to get behind the wheel of a used Chevy? Come check out our inventory and meet the team. The sooner you get here, the sooner you'll drive home happy in a Chevy you love!