RETURN YOUR LEASED CHEVY, BUICK OR GMC AT RICHARD LUCAS CHEVROLET IN AVENEL, NJ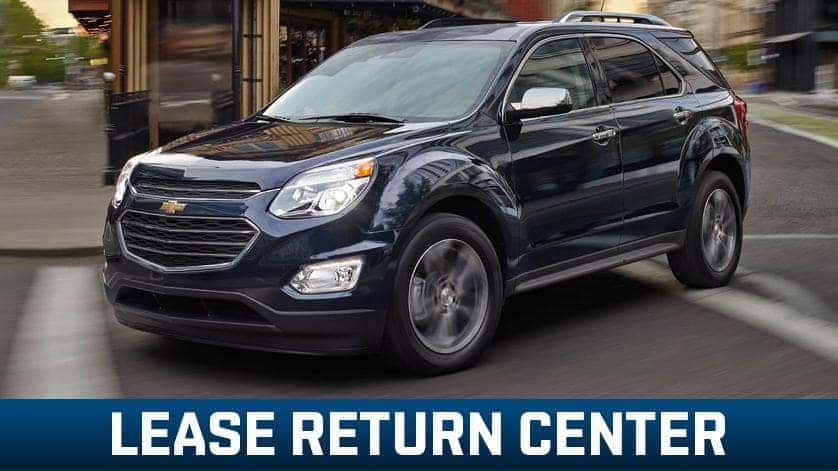 When your lease expires, you're faced with a few key decisions that have a significant impact on your future driving experiences. At Richard Lucas Chevrolet in AVENEL, NJ we know that navigating the lease-end process can be confusing at times. That's why our expert Chevy sales and finance professionals here serving Woodbridge Township and Edison can walk you through all of your options and guide you every step of the way. Even if you didn't originally lease your vehicle with us, we're happy to lend a hand with whatever you need assistance with, and we're confident we'll be able to steer you in the right direction towards your next vehicle.
Usually drivers start considering their lease-end options once there are six to eight months remaining on a lease. Our goal is to make the transition out of your current lease as simple as possible so that you're not inconvenienced when your lease ends. When your lease is close to termination, you can explore the following options at Richard Lucas Chevrolet serving all of New Jersey including Staten Island and Woodbridge Township:
DIDN'T LEASE FROM US? THAT'S FINE, WE'LL TAKE IT IN!!!!!!!!
Buy or Lease a New Chevy:
Want to upgrade to a newer Chevy model or a new vehicle type? You can buy or lease a new Chevy at Richard Lucas, and our sales team will help you select the exact ride that's right for you. A good rule of thumb is to schedule a pre-termination lease inspection with us between 120 and 180 days in advance of your scheduled lease-end date. Then, start considering what you're looking for in your next Chevy. You can browse our selection of new Chevy models, hop behind the wheel of a Certified Pre-Owned Chevy or explore our used cars from other top makes. Whether you're in the market for a new sedan, a stylish SUV or a rough-and-ready truck, we'll help you find and finance the Chevy you need.
Purchase Your Leased Chevy:
If you love your Chevy and don't want to look elsewhere, you don't have to; we're happy to help you purchase your leased vehicle! If you've decided to buy out your lease, schedule an appointment with us for a pre-termination inspection to learn more about this option. You'll need to settle any remaining financial obligations and sign some paperwork to complete your transaction, but excess mileage and/or wear and tear will not have an impact on your purchase price. Plus, our Chevy finance team can help you refinance the remaining balance on your Chevy with enticing payment and warranty options.
Return Your Leased Chevy:
Your last option is simple: if your lease is up and you no longer want to use your vehicle, you can easily turn it in and go on your way. Whether you leased your Chevy/GMC/Buick from Richard Lucas Chevrolet or from a different dealership, we can help facilitate your return. We'll evaluate your lease and let you know if you may be responsible for any excess wear or use charges. You can also schedule repairs with or order replacement parts from us to avoid some chargeable fees.
What's Considered Excess Wear or Use?
Exterior Body Panels: Dings, dents and scratches larger than four inches on the exterior body panels
Wheels: Scratches larger than six inches or gouges greater than half an inch
Tires: Tire removal and replacement with incorrectly sized tires, or any damage to the sidewall, plugs, exposed cords or belts
Glass: Any type of glass damage, including chips and cracks
Lights: Any cracked or broken headlights, taillights or markers
Interior Stains: More than two permanent stains larger than a half inch on any panel
Interior Burn Holes: Three or more per panel that are larger than 1/8 inch.
Interior Cuts and Tears: Three or more cuts or tears larger than half an inch on any panel
Get in touch with Richard Lucas Chevy in Woodbridge, NJ today, and we'll go over all of your options with you to ensure everything goes smoothly when your lease is up!
Have more questions? Call us, We're here to help! (732)-634-0100