PRE-OWNED SILVERADO DEALER
The Chevy Silverado is one of the most popular trucks in America, and for very compelling reasons. The Silverado is a versatile truck with plenty of configurations and a slew of options. With three cab styles, multiple bed size options, and plenty of powerful engine choices, you can bet there is a model that suits your every need. The Chevy Silverado is a truck fit for work and play, and it will give you years of reliable service. If you are in the market for a Chevy Silverado, Richard Lucas Chevrolet is your pre-owned Silverado dealer, offering an impressive selection of new and used trucks. You might be quite sure that you want a Silverado in your driveway or for your work truck, but you might not be sure whether to choose a 1500, 2500, or 3500; we can help.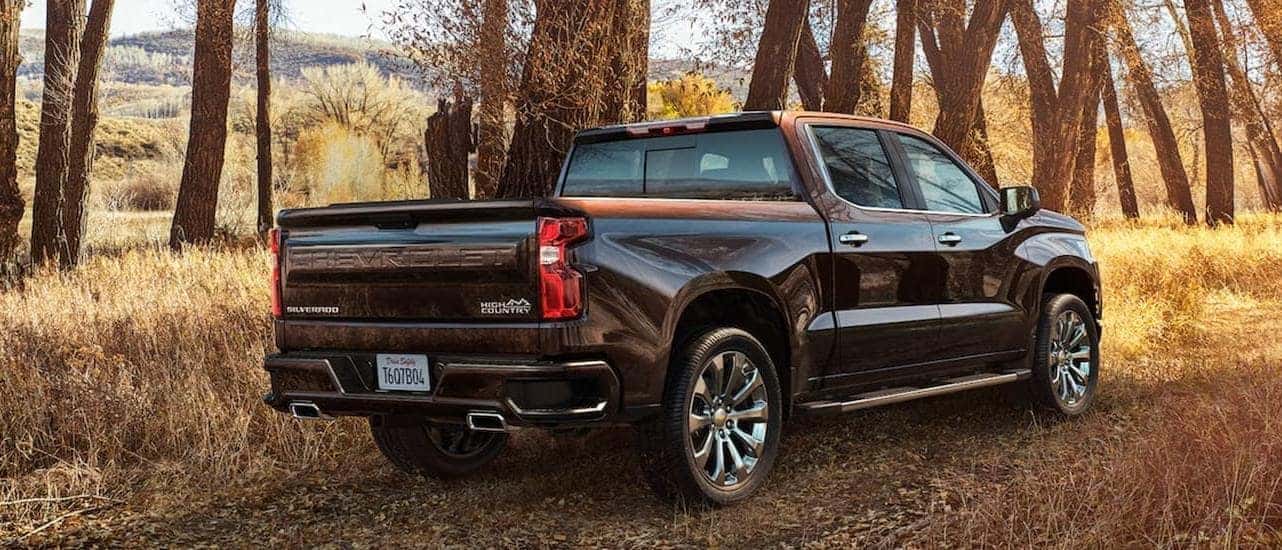 A Short History of the Chevy Silverado
Today, the Chevy Silverado is a widely-respected and popular full-size truck with various trim choices. But it was quite different when it was first introduced in America in 1999. The first-generation Silverado was a light-duty pickup truck with a classic body style, and it was offered in three cab styles and three bed lengths. The first year of the Silverado offered three engine choices, and each was powerful enough to tackle heavy loads and towing applications. The Silverado also offered a four-wheel-drive system that made it quite capable in off-road conditions.
2007 saw the introduction of the second-generation Chevy Silverado. The new generation of Silverados featured a redesigned frame, exterior, suspension, and interior. Though the cab configurations remained the same, the Silverado engine lineup saw an increase in power. The pickup truck was built on a redesigned steel frame, which made the Silverado tougher than ever. Other changes like hydraulic body mounts and new rear springs made the ride more comfortable while improving the truck's durability. Aerodynamics were also improved and resulted in increased fuel economy while retaining its classic truck looks.
The Chevy Silverado enjoyed the introduction of the third generation in 2014. The truck was fitted with even stronger structural enhancements, including a high-strength steel frame that utilized hydroforming technology. Aluminum was used on the engine block, control arms, and hood to rescue the overall weight. The new generation brought a slew of new features and made several optional features standard. A few of these new features included Bluetooth audio, MyLink infotainment system, and USB ports. Chevy also introduced the Silverado's first luxury trim to this generation. The High Country offered leather seating and special badging that set it apart from its peers.
Differences Between the Silverado 1500, 2500, and 3500
Initially, the three numerical designations for the Chevy Silverado referred to the towing power. These, of course, we're only rough estimates, but the 1500 meant that the truck could haul about a half-ton, the 2500 could move three-quarters of a ton, and the 3500 could carry about one ton. But these days, the 1500 is referred to as a light- duty truck while the 2500 and 3500 are referred to as heavy-duty trucks, which is indicated in the HD title.
The Silverado 1500 is a light-duty truck, and as such, it won't get the more demanding jobs done as well as the 2500 or 3500. That said, it is still an adept and impressive work truck that can be used in challenging work applications. The 1500 is the perfect choice for everyday use, and it is easier to handle, gets better fuel economy, and is easier to fit into tight parking spots.
The Silverado 2500 falls right in between the 1500 and 3500 in terms of price and weight. While it has greater towing capabilities and can handle a heavier payload than the 1500, it is still outdone by the 3500. For the biggest jobs, the 3500 is the obvious choice. The 3500 boasts a robust suspension and is capable of impressive towing capacities and payload.
For reference, the 2021 Silverado 1500 Crew Cab with the standard bed measures just over 241 inches in length, 81.2 inches in width, and has a height range of 75.5 to 78.2 inches. The Silverado 2500 Crew Cab with the standard bed is slightly bigger, measuring 266 inches in length, 81.9 inches in width, and 79.8 inches in height. However, the Silverado 3500 Crew Cab actually has the same exact dimensions as the Silverado 2500 unless you opt for the dually variant with its wider fender flares to cover the four rear wheels.
As we mentioned earlier, the Silverado 1500 is a good work truck, but it is also better suited for everyday use. It is your best bet if you would like a truck for your commute or take the family camping. The Silverado 2500, which is offered with the Crew Cab, Double Cab, or Regular Cab, is a truck best suited for heavy-duty work applications. The 2019 model offers the choice of a 6.6-liter Duramax Turbo-Diesel engine or a 6.6-liter gas engine. The former boasts 910 lb-ft of torque, while the latter will produce 464 lb-ft of torque.
The Silverado 3500 is the truck of choice for the biggest jobs. While the 2500 has an awe-inspiring towing capacity of 18,500 pounds in the 2020 model, the 3500 from the same model year boasts a ridiculous towing capacity of 35,500 pounds. That is a considerable jump to provide the towing power you need to get almost any job done. The 3500 is a true work truck.
What You Need to Know About Richard Lucas Chevrolet
We really appreciate your interest in the Chevy Silverado. Our goal is to make sure we have an attractive and ample inventory of new and used Silverados from which to choose. Our team is devoted to helping and serving our customers to the best of our ability. The trucks we offer are of the highest quality and well-suited for your needs. We also understand that you are seeking informative and accurate information when doing your research, and we pledge to deliver correct, relevant, and timely information.
We are not only interested in finding you your dream truck - we want you to keep it running its best for a very long time. This is the reason why we also offer service specials, auto repair, and a parts department right here on the premises. Our team of technicians is well-trained and knowledgeable, and they will get the job done right the first time. Whether you require simple routine maintenance or major repairs, you can count on us. We value our customers, and we aren't afraid to show it.
Come Visit Us!
We have an impressive inventory of Silverados and other Chevy trucks, so you can bet that we have just what you are searching for. Chevy trucks are reliable, dependable, and feature high-strength steel and innovative cargo beds; they are among the longest-lasting trucks on the road, and we are proud to offer them to you here at Richard Lucas Chevrolet. The goal for every one of our team members is the same - to help you find the best deals on new and pre-owned trucks, cars, and SUVs. Our customers drive great distances for our excellent service, and we pride ourselves on building long-term relationships. Stop by Richard Lucas Chevrolet today and let us help you drive home in a Silverado that you will cherish for years to come.