NJ COMMERCIAL TRUCK DEALER
When purchasing vehicles for your business, you need a NJ commercial truck dealer that can provide you with a total solution. At Richard Lucas Chevrolet, we will not only provide you with access to the full range of Chevy commercial vehicles but will also provide you with the specialized support that a fleet operator needs to get the most out of their investment. As a Chevy Business Elite and GM FleetTrac dealer, we know what commercial customers require from a commercial truck dealer and will make sure you are set up for success. From start to finish, we can work with you from selecting the vehicles you require, to upfitting them for your jobs, to maintaining them over their service life. Whether you operate a large fleet or only need a handful of trucks, Richard Lucas Chevrolet is here to high-value reliable options.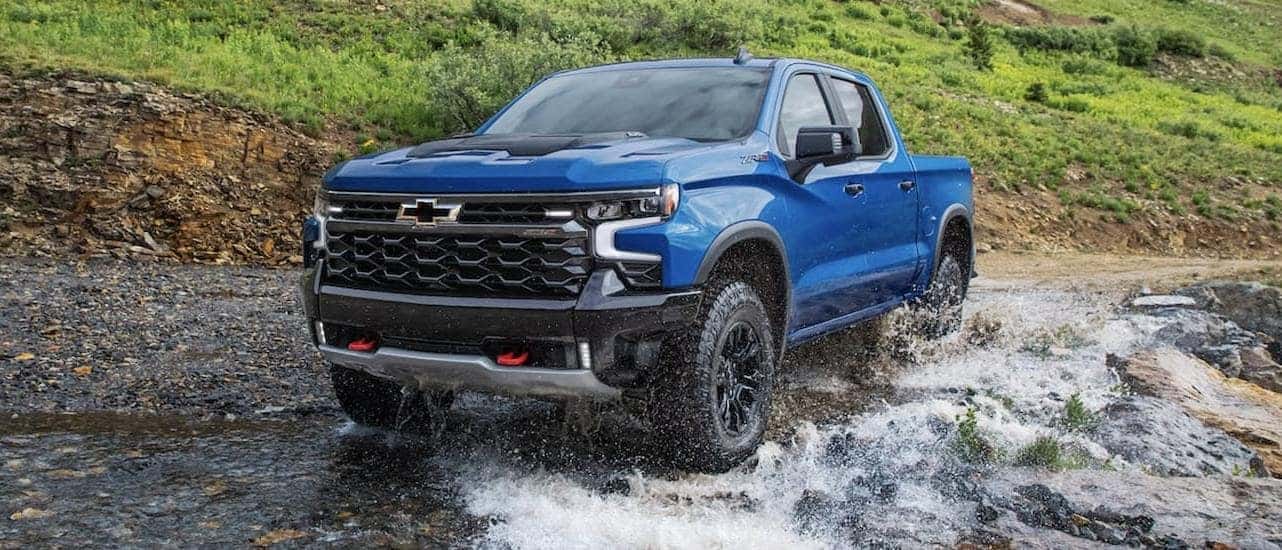 WHY CHEVY COMMERCIAL TRUCKS?
In the world of commercial trucks, the Chevy name speaks for itself. Businesses across the nation rely on Chevy trucks every day, from basic Silverado pickups all the way up to the Low Cab Forward. Chevy is known for building robust, high-value vehicles that can get the job done, and those qualities are on full display with the latest lineup of Chevy commercial trucks. Powered by a selection of reliable V8 gasoline engines and rugged turbo-diesel engines, Chevy's commercial line offers fleet buyers reliable power scalable for any task. Chevy's latest trucks are also designed for easy maintenance, whether performed in-house or here at our GM FleetTrac service center, ensuring high uptime and maximum value for your money. Chevy also offers a variety of fleet-specific support for commercial customers, increasing the return on your investment. The GM FleetTrac program is designed for smaller fleets that do not have access to full in-house all current Chevy commercial models. This system uses pre-installed hardware to enable tracking of driver performance, vehicle health, and even custom alerts designed for your business. This allows you to maximize fleet productivity and improve efficiency without requiring the complications of third-party hardware and software or long-term contracts. Even better, OnStar Vehicle Insights only requires a low monthly fee per vehicle, and Chevy even provides the first two months free so you can determine if it works for your business before writing a check. Purchasing commercial trucks for your fleet involves more than simply finding vehicles with specs that will meet your needs. To get the most out of your investment, you need a commercial truck dealer that specializes in handling fleet customers and can cater to your specific needs. As a Chevy Business Elite dealer, Richard Lucas Chevrolet is here to provide you with the solutions you require to maximize your productivity and minimize the hassles of fleet management. When you work with our professional fleet sales team, we will ensure you can take full advantage of all the benefits available to you with Chevy commercial trucks. That is what sets Chevy, and Richard Lucas Chevrolet, apart from the other options on the market.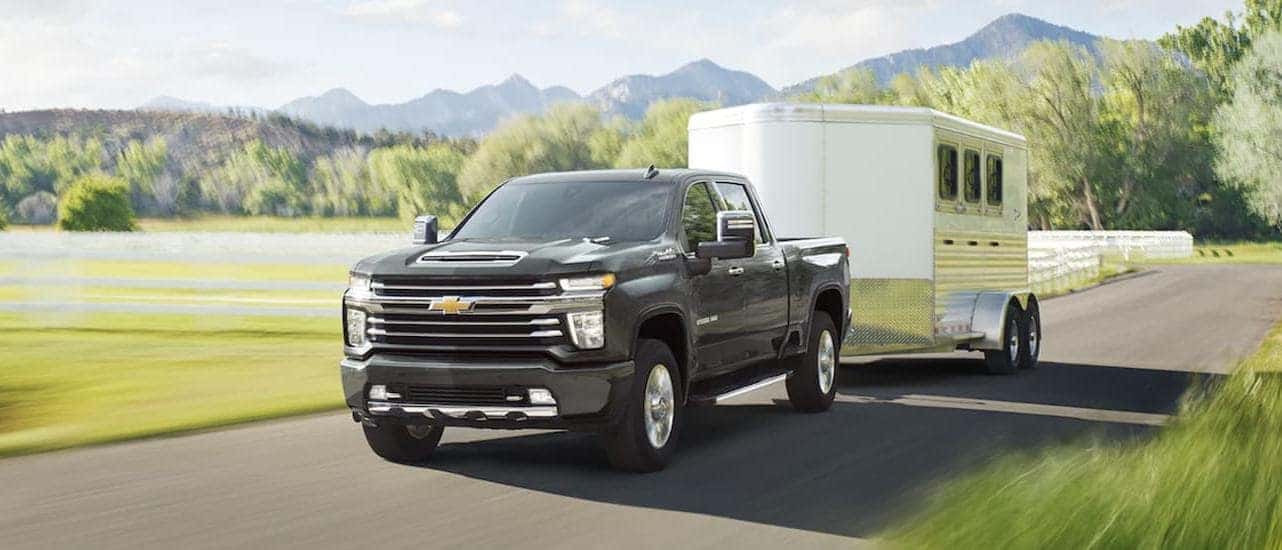 2022 SILVERADO 1500
The Silverado 1500 is a staple of fleets around the country. This reliable light-duty pickup provides a range of capabilities at an affordable price, making it the perfect option for fleets looking for a commercial truck for a wide range of business needs. With the 2022 Silverado 1500, you are getting a proven vehicle that can transport up to six passengers and handle up to 2,280 pounds of payload. Fleet managers that prefer diesel trucks will also be glad to learn that the 3.0L Duramax can now be paired with the Max Tow Package for the first time, allowing a diesel Silverado 1500 to tow up to 13,300 pounds. If you are instead shopping for a more affordable base model for general light-duty tasks, the 2022 Silverado 1500 now comes standard with a 2.7L High-Output Turbo instead of the old 4.3L V6. Not only is the new engine significantly more capable, offering 420 lb-ft of torque (20 lb-ft more than a 2.7L Ford EcoBoost), it is noticeably more efficient, rated at 20 rather than 17 MPG combined. That greater efficiency means lower operating costs, while the increased power means that you may no longer need to upgrade to a more expensive engine option to have the capability you need. tie-downs for securing cargo and the easy-to-use bed steps, and the Silverado 1500 is the most work-ready truck in its segment on top of being among the most affordable. If your fleet would rather have a light-duty chassis cab for upfitting, then the ZW9 box delete option will give you exactly that straight from the factory. All versions of the 2022 Silverado 1500 now come standard with Chevy Safety Assist, which includes Forward Collision Alert, Lane Keep Assist with Lane Departure Warning, Automatic Emergency Braking, Front Pedestrian Braking, Following Distance Indicator, and IntelliBeam auto high beams. These six systems will help reduce at-fault accidents during the workday, protecting your workers and your vehicles. The standard 7" touchscreen infotainment system will also improve connectivity and productivity, helping drivers stay in touch and navigate to their destinations. The LT and higher trims now offer an even more capable technology suite that includes a 13.4" touchscreen and Google built-in, giving direct access to Google Maps without needing to sync the system with a smartphone.

2022 Silverado HD
For reliable everyday performance, nothing beats a Silverado HD. Chevy's heavy-duty trucks offer up to 36,000 pounds of towing and up to 6,532 pounds of payload, giving fleets the dependable performance needed to accomplish a wide range of tasks. Both the Silverado 2500 HD and Silverado 3500 HD are available with either a 6.6L V8 gasoline engine or a 6.6L Duramax turbo-diesel engine, allowing you to standardize on the fuel type of your choice. As expected, the Duramax provides a higher level of capability, with 910 lb-ft of torque on tap through a 10-speed Allison automatic transmission. The 6.6L gasoline option provides up to 464 lb-ft of torque with a maximum towing capacity of 17,370 pounds, making it a solid option for middle-of-the-road tasks and providing reliable performance with easier maintenance. The 2022 Silverado HD offers far more than simply raw power, however. Chevy designed this truck for hard work, and it is filled with features designed to increase productivity. Unlike competitors from Ford and Ram, the Silverado HD comes standard with an automatic locking rear differential designed to increase traction on slippery surfaces. The Silverado HD also offers a factory Power Take Off as an option if you opt for the Duramax engine, allowing you to easily power upfits. Like the smaller Silverado 1500, the Silverado HD rounds off its versatility by providing the largest box in the segment, measuring 83.5 cu.ft. for the long box or 69.5 cu.ft. for the standard box (that's 4-5 cu.ft. more than the equivalent Ford Super Duty options). When it comes to productivity technology, the Silverado HD comes standard with a 7" touchscreen display, providing easy access to important features such as backup cameras (the 2022 Super Duty only comes with a standard 4.2" screen). If you intend to use your Silverado HD fleet for heavy trailering, then you may find Chevy's available eight-camera trailering system worth investing in. With up to 15 unique camera views available, this system will help less experienced drivers safely tow even large trailers in all conditions - especially when combined with Chevy's available driver-assist safety technologies. If you are looking for an upfit ready version of the Silverado HD, then the Silverado 3500 HD Chassis Cab will provide what you are looking for. With a 40,000-pound max GCWR, 14,000-pound max GVWR, and 7,571-pound max payload, this chassis cab is the definition of flexible and ready for work. The option Regular Cab and Crew Cab versions only increase the flexibility, and Chevy's available $750 cash allowance on eligible upfits will help get you started equipping your Silverado 3500 HD Chassis Cab for your business needs.

Available in three sizes, the Silverado Chassis Cab is Chevy's do-it-all medium-duty truck. The 4500 HD, 5500 HD, and 6500 HD all come standard with a 6.6L Duramax turbo-diesel tuned for an even 700 lb-ft of torque through a six-speed Allison transmission. This under-stressed engine is designed for long-term reliability and low maintenance, making the Silverado Chassis Cab a star player on any team. The max GVWR ratings for this model vary from 14,000 lbs for the 4500HD up to 23,500 lbs for the 6500 HD, giving you plenty of options as you spec out the right commercial truck for your needs. Unlike the smaller Silverado models, the Silverado Chassis Cab is also designed with a forward-tilting engine cover that lifts almost 90 degrees for easy access, further reducing maintenance time. Other easy maintenance features include a battery box conveniently located under the driver's door, a DEF fill cap on the right fender, and 50-degree wheel cuts, putting everything you need right at hand so you don't have to take as much time out of the workday to keep your trucks running. All three Chassis Cab models are available with a Regular Cab or Crew Cab and come with a clean top-of-rail design that makes upfitting easy, along with a variety of options straight from the factory. Whether your business requires a large 65-gallon fuel tank, a transmission Power Take Off, or adjustable rear air suspension, it is available without turning to the aftermarket. There are even up to 13 auxiliary switches available (seven standard switches on the console and six available switches on the headliner), turning even complex upfits into a simple plug-and- play affair. For businesses with jobs that take them off the city streets and down dirt roads or out to muddy job sites, the Chassis Cab is available in 4x4 as well as standard 2WD. With standard four-channel ABS paired with the available limited slip or locking rear differential, this is one medium-duty truck that can handle just about anything. If your fleet plans on towing, then the available wider mirrors, trailer brake controller, and wiring harness will set you up straight from the factory.


2021 Low Cab Forward
The Chevy Low Cab Forward is a solid option for fleets looking for a more compact medium-duty truck with excellent cab visibility from the cab. Available in seven different weight classes from the basic 3500 to the powerful 6500 XD and in wheelbases ranging from 109" to 248", the Low Cab Forward is the definition of flexibility and offers a version to suit every fleet's needs. It is even available with both a Regular Cab and a Crew Cab, providing more options to spec out the exact truck you require long before you begin upfitting it to meet your particular needs. There are two engine options available for the 2021 Low Cab Forward. The lighter 3500 and 4500 versions come with a reliable 6.6L V8 gasoline engine tuned to provide 425 lb-ft of torque and paired with a six-speed automatic transmission. The HD and XD versions are outfitted with a 5.2L turbo-diesel that provides 452 lb-ft of torque - except for the 6500XD, which comes with a 520 lb-ft version of the same turbo-diesel. The 6500XD also comes standard with a Power Take Off gear, perfect for more specialized upfits. These engine options enable reliable performance with high max GVWR.
3500: 12,000 pounds
4500 XD: 16,000 pounds
5500 HD: 17,950 pounds
5500 XD: 19,500 pounds
6500 XD: 25,950 pounds
Beyond the raw numbers, the Low Cab Forward is designed to enhance productivity on the job. The tight turning diameter of as little as 31.5' makes this vehicle easy to maneuver in parking lots or city streets, while the large front windshield and sloping side windows also make it easy to see out of the cab, preventing avoidable accidents with low obstacles. Safety can be further enhanced with available MobilEye Lane Departure Warning and Forward Collision Alert. Doors that open out to 85 degrees and incorporate an integrated step also make it easy for drivers to enter and exit the cab as they work. Maintenance is also made easy, as Chevy designed the Low Cab Forward for easy engine access and upfitting. The cab can be tilted forward with just one hand, providing quick access to the engine and transmission, unobstructed by the usual fenders on traditional commercial truck designs. The ladder frame has even been designed with upfits in mind, being constructed of carbon-manganese, low alloy steel with modular hole spacing and a flat top surface that makes it easy to mount whatever body you require.


RICHARD LUCAS CHEVROLET PROVIDES SOLUTION
No matter which models you are shopping for to outfit your fleet, and no matter how many vehicles you intend to purchase, Richard Lucas Chevrolet will provide your business with a tailored solution to the problems you face. Our commercial sales team has the experience and training to get you the vehicles you need and to provide you with the long-term support you require. Operating a fleet of commercial trucks from day to day is difficult enough, so let us help take on some of the burden. Whether it is determining the best models and options to get you the capabilities you are looking for or walking you through Chevy fleet programs like OnStar Vehicle Insights, Richard Lucas Chevrolet doesn't just sell you top of the line Chevy commercial trucks; we provide you with total vehicle solutions. Contact us today to let us help you enhance your fleet.