NEW JERSEY COMMERCIAL TRUCK SALES
How much does your business rely on transportation to serve its customers? Whether you own a plumbing or electric company and travel with a lot of tools and equipment, run a delivery service, or do something else entirely, Richard Lucas Chevrolet is here to help. As the leader in New Jersey commercial truck sales you'll find new and used commercial trucks on our lot that will help keep your business running smoothly. And as a business owner and manager, who doesn't want that?
But what makes us the best commercial truck dealer in the area? We're a local New Jersey business, making us business owners like you. We know the importance of serving customers and how much we rely on transportation to improve the customer experience and keep our business operating at its best. Because of this, we understand the importance of having reliable transportation and how it can positively impact your business, allowing you to grow to new levels of success and better serve your customers.
Our experience gives us a unique perspective and the opportunity to serve you better. The result is a hassle-free buying experience that takes three simple steps and is characterized by integrity and transparency. Our Easy Price Promise guarantees as much, reflecting our promise to give you the best price in town so that you have more money to invest in your business and employees. But why else should you choose Richard Lucas Chevrolet, and what makes Chevrolet's commercial truck lineup so impressive? It's time to find out.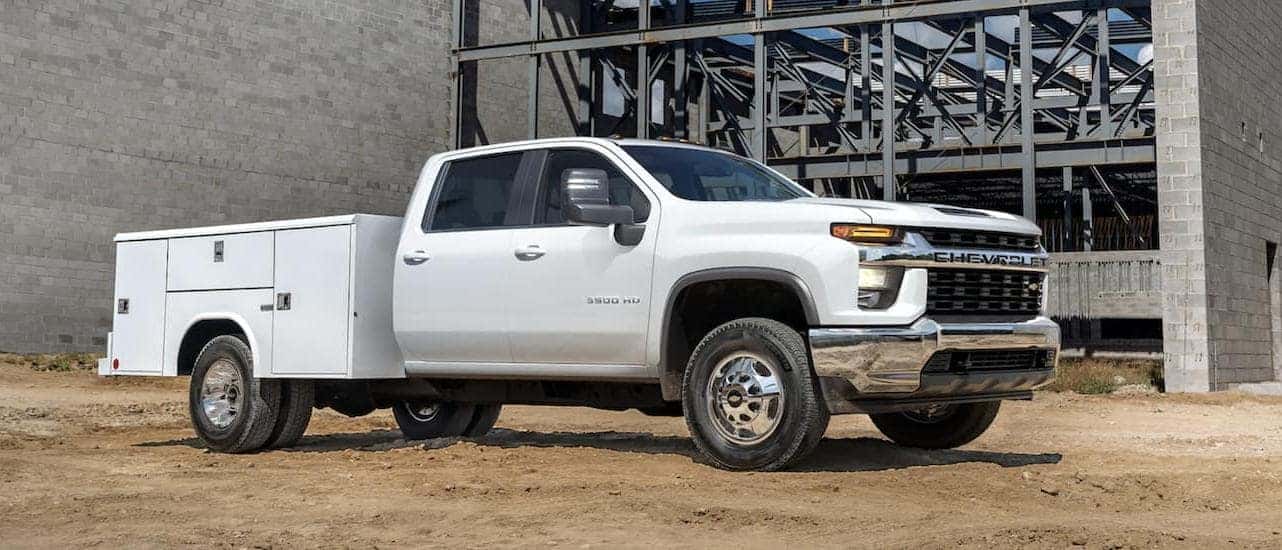 Why Chevy?
Chevrolet builds some of the most capable workhorses in the industry, but how does its commercial lineup compare? Chevrolet's commercial fleet is just as impressive. You'll find best-selling models like the Colorado and Silverado along with unique options like the Express Cutaway and heavy-duty road warriors like the 4500 HD, 5500 HD, and 6500 HD that can handle all the demands of your business.
The midsize Colorado is ideal for businesses looking for an efficient and capable truck, while the Silverado and Silverado HD deliver the same strength and apability you've come to know and appreciate from Chevy's retail lineup. Even more impressive is that Chevy gives you plenty of options for customization, llowing you to outfit the models with rugged interiors and features like trailering technology and camera systems that enhance the truck's operability and the safety of your drivers.
Chevy's commercial truck lineup also caters to New Jersey businesses that need more than a traditional road warrior. For example, the Silverado 3500 Chassis Cab gives you a customizable platform that you can outfit for your landscape business, delivery service, and more. The same is true with heavy-duty powerhouses like the Silverado 4500 HD, 5500 HD, and 6500 HD. With available rear-wheel configurations and exceptional towing capability, these trucks put in the work. They can be upfitted as fifth-wheel haulers, dump trucks, snowplows, or utility trucks with functional storage for all your tools and equipment.
Our Commercial-Capable Service Department
What's one of the basic principles of good business? It's giving customers more of what they want and need. For us, we deliver a hassle-free experience designed to save you time and money. Part of this experience relies on our state-of-the-art service department that can oversee all your commercial truck needs. Our service department is staffed with Chevrolet-trained and certified technicians who know the ins and outs of every commercial truck that Chevy offers. This knowledge comes from experience, which means there's nothing our team can't handle, whether your fleet needs routine oil changes or quarterly inspections. We're here for it all.
As a one-stop-shop for all your business's transportation needs, we promise to get your fleet in and out of the service department so that your business can keep running smoothly. Our online service scheduler makes it easy to schedule appointments, and our lobby ensures you never miss a beat of your workday with complimentary WiFi and refreshments. While you wait, you can rest easy knowing that your truck is in good hands since we use genuine OEM parts that guarantee your fleet runs its best for many years and miles ahead.
Perhaps the best aspect of our commercial-capable service center is that our technicians operate with the same integrity and transparency as the rest of the Richard Lucas Chevrolet team. Our goal is to enhance your New Jersey business, which means we're not here to upsell you services or upgrades you don't need. Instead, our technicians will give you a rundown of the services and repairs you need so that you know precisely the work that needs to be done and what it will cost.
Why Richard Lucas Chevrolet?
Why settle when you can work with the best commercial truck dealer in New Jersey? That's what you get when you work with Richard Lucas Chevrolet. We're a dealership with your best interests at heart, especially when it comes to your business and success in the community. Our honors and accolades show as much, having earned an A+ rating from the Better Business Bureau, certification from Dealer Rater, accreditation from Consumer Affairs, and a stellar rating on Cars.com. But what does this mean for you? As a local dealership, we understand the value that small businesses bring to the area and are proud to support those businesses. We're not only here to serve you as our customers; we're your customers as well. We take great pride in supporting our customers' businesses in any way possible, which is something you won't find at big business dealerships that prioritize the sale and quickly forget your name.
This customer-centric approach has earned us a stellar reputation in the area, and it's one we're incredibly proud of because it constantly challenges us to find new ways to improve. We're not satisfied with the status quo; we're here to set new standards of customer service that meet and exceed your expectations. This is the inspiration behind our Easy Price Promise, and a host of complimentary benefits like free multi-point inspections, roadside assistance, loaner cars, and more. These perks are our way of giving back to customers like you.
Set Your Business up for Success With Richard Lucas Chevrolet
Owning a business is stressful, demanding, and incredibly rewarding. As an owner or manager, you wear many hats, from hiring and training employees to processing payroll, making the schedule, overseeing building maintenance, and keeping your website and online presence engaging and up-to-date. You're also in charge of ensuring your business has the tools it needs to operate, like commercial trucks that will get your employees where they need to be.
Why not let us help you carry some of the load? Richard Lucas Chevrolet is here to help oversee your business' transportation needs. We'll walk you through our inventory of new and used commercial trucks, showing you the models that best meet your needs and keep more money in your wallet. Once you find the perfect fleet vehicle, we'll navigate the buying process in three simple steps.
So, what are you waiting for? Your business deserves the best, and that's Richard Lucas Chevrolet. It's time to head over to our New Jersey dealership and introduce yourself. We can't wait to meet you and learn more about your business, your plans for growth, and how we can help you achieve those dreams.