LONG ISLAND USED CHEVY DEALER
Are you looking for an affordable vehicle? Are you also looking for a vehicle that is highly reliable and sure to serve you and your family well for years to come? We know exactly what you need. As your Long Island used Chevy dealer, we promise to help you find the perfect vehicle. We know that if you are looking for both affordability and reliability that a used Chevy is the absolute best way to go. Chevrolet is one of the finest brands in the automotive world, and there are so many reasons to go Chevy.
Oftentimes when we think of a used vehicle, we picture an old, beaten up, tattered car that will only be able to creep a few more miles before it finally gives up. This is not the car we will sell you. We believe in maintaining high standards of quality and providing each customer with the absolute best care we can. On that note, we'd like to differentiate between used and Certified Pre-Owned. While a standard pre-owned vehicle will not be sold if it is up to our standard, Certified Pre-Owned vehicles are held to an even higher level of objective standards.
Certified Pre-Owned vehicles are put through a very rigorous and specific examination to see if it is up to the Certified Pre-Owned standard, and only those that pass the requirements and detailed inspection are awarded the label of Certified Pre-Owned. We feel strongly about the value of Certified Pre-Owned vehicles because it gives you access to the premiere selection of pre-owned vehicles of the best quality while maintaining a lower price tag than a new vehicle. Certified Pre-Owned is a fantastic way to go with Chevy because there is nothing like a Chevy of top-notch quality.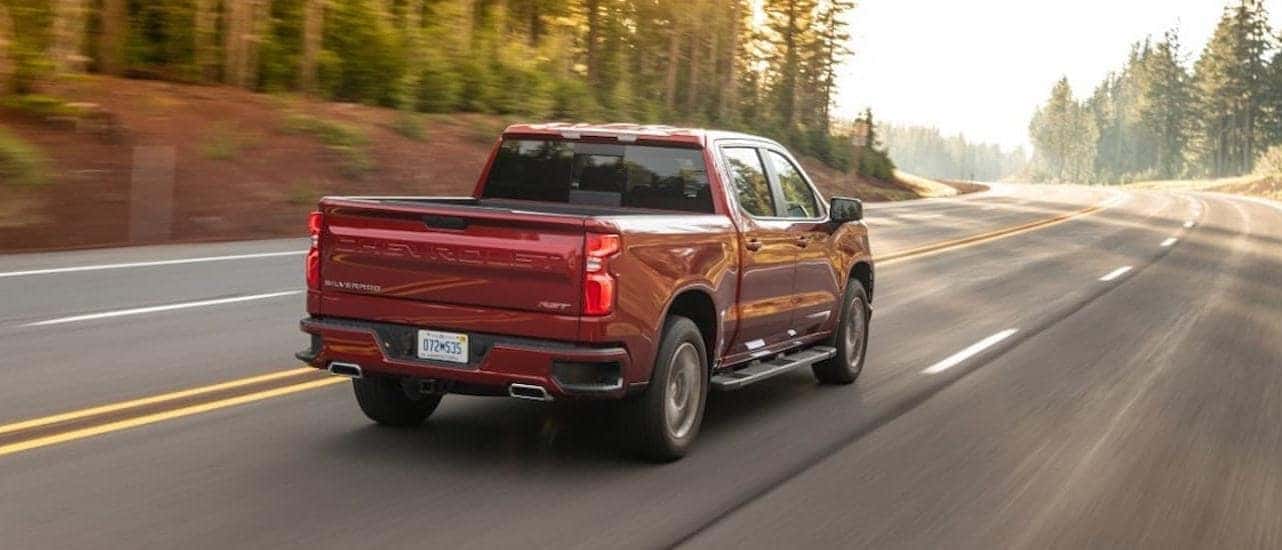 Why We Love Chevy
There is no brand like Chevrolet. There's a reason we specialize in this brand. As one of the pioneers in automotive production, and under the iconic General Motors name, the brand has over a century of excellence behind it to back itself up and continue to lead the industry into excellence. Rather than go on for hours listing every reason we stand by Chevy, we'll share with you our top five reasons to love Chevy.
#1 History
The Chevrolet brand has an amazing and rich history behind it! Having been founded by William Durant, founder of General Motors, and Louis Chevrolet, an acclaimed racer, the brand has had expertise in its blood since day one. Its history has seen so many innovations, from refining the One-Ton into what we now know as the pickup truck, to releasing its first mass-produced electric vehicle in the Volt, to changing our entire perception of driver safety technology with Chevy Teen Driver, to the upcoming Silverado EV which will shatter the world's perceptions of what a vehicle can be, the brand continues to make history as it advances itself.
#2 Innovation
Chevy is one of the most creative and consistently innovative brands you'll find. Always wanting to give its drivers a better experience, the brand never stops at "good enough" but always continues to forage into excellence, even when we think they couldn't go any further. Always finding ways to marry form with function, each new model finds a way to become more efficient, using trendy design features for highly functional purposes, leading to astonishing performance. Speaking of performance, that's another reason to go with Chevy.
#3 Performance
Chevy vehicles perform well. That is just a fact, and the numbers don't lie. Whatever kind of vehicle you're looking for, whether it's a compact sedan or a heavy-duty truck, you'll find excellent performance specs with Chevy. As a GM company, Chevy really shines with large vehicles; take a look at the spec lists of the brand's trucks and SUVs, and you'll see numbers that can't be found just anywhere. Performance is more than numbers, though, and the engineers at GM are always working to equip Chevy with the most creative, efficient, and exciting new design and technology possible. You'll be glad to know that Chevy has been succeeding at achieving this end for quite some time, so even buying a used model from several years ago will have you enjoying incredible performance
capabilities.
#4 Safety
If you're driving a vehicle that can perform as highly as a Chevy, you'll want to make sure that you are safe doing so. The fantastic thing about Chevy is that their vehicles also want to make sure that you are safe, which is why their cars excel in terms of safety technology. A recent safety development that parents will love is Chevy Teen Driver, which allows parents to assign to their teen a specially programmed key with parent-selected restrictions.
These restrictions include maximum speed, maximum acceleration, and maximum audio volume, and a performance report card allows parents and teens to stay in communication about healthy driving habits. That's just one example of how Chevy vehicles work overtime to keep you safe in the car.
#5 Durability
Nobody wants to invest in a car that they are going to have to replace in the near future. That is why Chevy builds their vehicles to last. Able to load on the miles, hit the trails, and endure all kinds of conditions, your Chevy is set to serve you and your family now and in the future. Hey, if you hold onto it long enough, someday, you'll be able to cash in on the resale value of a vintage Chevy!
Popular Chevy Models
Those are just a few reasons of the many that we feel so strongly about Chevy. Now that we've covered the reasons to love the brand itself let's check out these popular Chevy models!
Silverado
If you're looking for a pickup truck, there is no other like the Silverado. Having been one of the most acclaimed trucks throughout its life on the market, this innovative truck just keeps getting better. With performance numbers that far exceed most other leading pickups, outstanding technology, and a special emphasis on making both work and play more enjoyable, you'll be hanging onto this truck for quite a while.
Suburban
If you're looking for a large vehicle but not necessarily a truck, then turn to one of the most iconic SUVs of all time: the Suburban. This SUV holds the distinction of being Chevy's longest-lasting nameplate, and for a good reason.
This incredibly spacious SUV is engineered so as to provide you with performance capabilities that you've probably never experienced before. If the idea of an SUV overwhelms you, rest assured that the Suburban is incredibly easy to drive, thanks to Chevy's intelligent technology and engineering. This is an excellent family vehicle that provides plenty of room for all the kids and all the cargo, and makes for an easy and enjoyable ride for mom and dad.
Spark
If you are young and single and don't need all that space, then add a little Spark to your drive. The Chevy Spark is an incredibly fun and spunky hatchback, which is perfect for city dwellers and those looking to get around a little more efficiently. Don't be deceived, though. While this car is small, it is very safe, thanks to Chevy's aforementioned safety technology. We think you'll have a lot of fun in the Spark.
We Are Your Local Chevy Dealership
Located in Avenel, New Jersey, just over one hour from Manhattan and just under two hours from Long Island, Richard Lucas Chevrolet is perfectly located to serve those living in the Suburbs of NJ and the city dwellers of NY! We are passionate about what we do, and we want to help you find the vehicle that is just right for you and your family. As much as we love Chevy, if you're in the market for something else, we'll find it for you in our inventory of used vehicles. We'll certainly sell you the vehicle that you need, but we want to do more than that. Our highly trained service team will also help keep your vehicle in working order, so you don't have to scramble to find somewhere to get it fixed when the time comes for an oil change or massive repair.
More Than Just a Sale
We're happy to sell you a vehicle, but that's not all we can do for you. If you need to get rid of an old vehicle, we'll get a trade worked out for you. If there are other financing concerns, our financing department will work with you to get it all taken care of, and we'll work to eliminate any obstacles between you and a new vehicle. Even if you haven't purchased with us and are content with your current vehicle, we both know that it needs maintenance, and our service department is ready to take care of you. Owning a vehicle is not an event; it is an ongoing responsibility, and we are here to share in that responsibility with you. Whether you're right down the street from us or from a little farther away, we're ready to help you however we can! Just come on in and let us know what you need!