LONG ISLAND COMMERCIAL TRUCK DEALER
Richard Lucas Chevrolet is the top Long Island Commercial truck dealer. Here, you will find the full lineup of Chevy commercial trucks for sale, from the Chevy Colorado and Chevy Silverado 1500 light-duty models all the way up to the Chevy Silverado 6500 HD and Chevy Low Cab Forward. No matter what vehicles you need for your business, we provide high-value solutions that will let you spend less time managing your fleet and more time focusing on the job at hand. As a Chevy Business Elite Dealer, we understand the challenges you face, and our team of experts knows exactly what it takes to keep your fleet running smoothly. From providing reliable commercial trucks to assisting you with upfits and telematics, and more, Richard Lucas Chevrolet is here to help make your business succeed. Contact us today to learn more about Chevy's commercial trucks and our solutions-oriented approach to helping our fleet customers.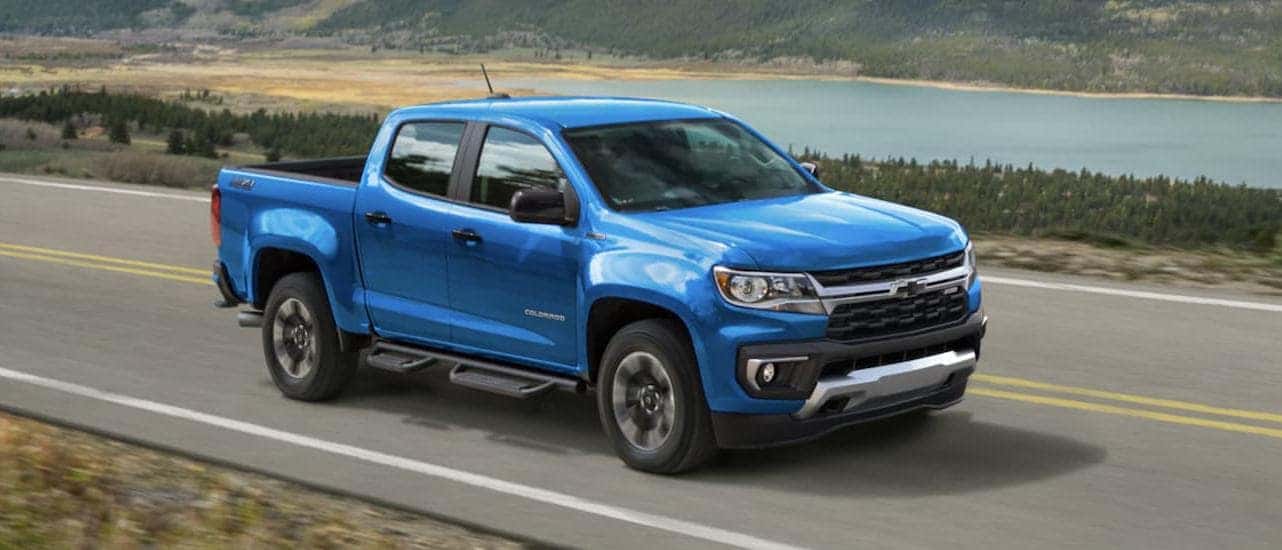 Chevy has been providing commercial trucks for American workers for well over a century, and the Chevy badge represents a history of rugged and reliable performance. Today, Chevy offers a wide range of commercial vehicles with solutions for the needs of any business. Every commercial model available here at our Long Island dealership is the product of decades of improvement and is designed to help your business grow. Chevy commercial trucks are also extremely adaptable, with support for countless upfits from Chevy and other third parties. From bare chassis cabs and cutaways to work-ready service bodies, dump bodies, and more, you can find the ideal truck and upfit for your needs with little effort right here at Richard Lucas Chevrolet.
If you are looking for turnkey fleet management solutions, Chevy builds them into every commercial truck it produces. OnStar Vehicle Insights is a GM-exclusive telematics solution designed to maximize efficiency and optimize production. No additional hardware or software is required, eliminating installation downtime and making adding new trucks to your fleet as easy as pressing a button. Chevy even offers the first two months of OnStart Vehicle Insights for free, so you can see if it works for your business, and our experts here at Richard Lucas Chevrolet can assist you in setting up telematics when you purchase your trucks.
Buying your commercial trucks from Chevy also means you can take advantage of offers like Chevy's Business Choice Program. Chevy knows that even the best commercial trucks don't come work-ready straight from the factory, which is why every Chevy commercial model comes with an upfit cash allowance for eligible upfits or Chevy Accessories so that you can make the modifications you need without going over budget. Our commercial sales team can show you eligible Business Choice upfits and accessories that have worked for other Long Island customers, helping you to get the most for your money with minimal hassle.
Your Chevy Commercial Truck Options
Here at Richard Lucas Chevrolet, we offer a wide range of commercial truck options for Long Island fleet buyers. These include traditional light-duty pickups, heavy-duty trucks, and even medium-duty trucks. Whatever capabilities that you need to round out your fleet, we can help you find them from among Chevy's expansive lineup of capable commercial vehicles. Our commercial sales team can not only help you zero in on the right models for your business, but we can also recommend suitable options, accessories, and upfits to maximize productivity. Every Chevy commercial truck is available with numerous options, giving them the flexibility to fit any type of job.
As a Chevy Business Elite dealer, we can help you order the exact trucks you require straight from the factory or get you back to work today with trucks from our large inventory. We even stock fully upfitted models with common upfits from popular brands like Reading, Rugby, Knapheide, and Duramag, simplifying your shopping experience. If you want your truck upfitted after purchase, we can assist you in finding an upfitter here in Long Island and have your trucks ready for work with minimal delay. If you have any questions about the Chevy commercial truck lineup, contact our commercial sales team today to get the answers you need.
2022 Chevy Colorado: available with gasoline and diesel engines, the midsize Colorado is popular with Long Island commercial customers seeking a more compact and efficient light-duty pickup. With up to 1,550 pounds of payload, 7,700 pounds of towing, and an available 74-inch box, the Colorado provides plenty of capability at a low price and is a good fit for many jobs that do not require a full-size truck.
2022 Chevy Silverado 1500: Chevy's light-duty workhorse is a staple for commercial customers, offering a selection of gasoline and diesel engines paired with the largest box in its segment. The 2022 Silverado now offers up to 13,300 pounds of towing with its Duramax diesel engine and comes standard with a more capable and more efficient 2.7L turbocharged engine that gets 20 MPG combined and can tow up to 9,500 pounds.
2022 Chevy Silverado 2500 HD and 3500 HD: available with a regular pickup box or as a chassis cab, these heavy-duty trucks are powered by a 6.6L gasoline engine or a 6.6L diesel engine. The 2500 HD offers up to 3,979 pounds of payload, up to 18,510 pounds of towing, and a GVWR of 11,350 pounds, while the 3500 HD offers up to 7,442 pounds of payload, up to 36,000 pounds of towing, and a GVWR of 14,000 pounds.
2021 Chevy Silverado 4500 HD, 5500 HD, and 6500 HD: Chevy's medium-duty options are designed for easy upfitting and maintenance with a clean top-of-rail design and forward-tilting engine cover. Powered by an under-stressed 6.6L diesel producing 700 lb-ft of torque, these trucks offer a GVWR of up to 23,500 pounds and a GCWR of up to 37,000 pounds.
2021 Chevy Low Cab Forward: designed to provide a more compact medium-duty truck with increased visibility, the Low Cab Forward is a good fit for Long Island businesses that operate in more urban environments. Available in seven different models ranging from the 3500 to the 6500 XD, the Low Cab Forward offers both gasoline and diesel engine options. The GVWR of the Low Cab Forward increases from up to 12,300 pounds for the 3500 to up to 25,950 pounds for the 6500 XD, providing plenty of options suitable for any fleet.
Richard Lucas Chevrolet Is Your Long Island Commercial Truck Dealer
Whether your fleet has been running Chevys for years or you are ready to switch to America's most dependable brand of commercial trucks, the team here at Richard Lucas Chevrolet is here to provide your business with the solutions that you need. With our inventory of dependable models and our years of expertise working with commercial customers like you, we are your Long Island dealer of choice. From navigating Chevy's Business Choice Program to setting up OnStar Vehicle Insights, we will help you maximize the efficiency and productivity of your fleet to grow your business. Contact the Richard Lucas Chevrolet commercial sales team today to find business solutions tailored to Long Island commercial customers.