COMMERCIAL TRUCKS FOR SALE
The pulse of your business relies on vehicles that can transport your goods and services on time, which is why a commercial fleet you can trust is a priority. If you're searching for commercial trucks for sale, look no further than Richard Lucas Chevrolet, recognized for our impressive inventory and unparalleled customer service. We're the area's leading commercial dealer, and we understand how important it is to drive a fleet of vehicles that are made to meet your business needs. Whether you're seeking out cargo vans to deliver goods to your customers or utility vehicles to tackle tough tasks during the workday, there's a Chevy commercial truck designed with your unique needs in mind. We have all the options needed to help your business run more efficiently, and when it comes to an expert team that's well-versed in commercial needs, you'll find it right here on our lot.

A Variety of Commercial Trucks for All Types of Businesses
From pickup trucks to cargo vans, dump trucks to box trucks, we have exactly what you're looking for to help your business thrive. Whether you need a few vehicles or an entire fleet of commercial models, there's nothing you can't accomplish with us. Take a look at the vehicles we offer, all designed to tackle any type of job.
Work Trucks
Whether it's the midsize Colorado or a heavy-duty Silverado that you need for the task, our dealership can set you up with some of the top options in the Chevy lineup. Perhaps the most popular work trucks are the Silverado HD models, armed with exceptional towing capabilities and durability that you won't be able to find elsewhere. A maximum towing capacity of up to 36,000 lbs, plus a 7,442 lb payload capacity, allows your workers to take on heavier loads with confidence and haul more materials to and from the job site.
A durable bed and reinforced frame are key components in the structural integrity of these vehicles, and with a Multi-Flex Tailgate at your service, transporting cumbersome or oddly shaped loads is that much easier. You can even convert the tailgate into a functional workspace so that you can lay out plans, cut materials, and more in one place.
Express Vans
Everyone from florists to carpenters can rely on Chevy Express Vans to effectively help them deliver their goods and services to their customers. Plus, with room for up to 15 passengers, if transportation is on your agenda, you'll be able to accomplish this easily with the help of these accommodating vehicles.
The biggest draw with cargo vans is their unmatched versatility, offering a number of ways to configure them to suit your unique needs. Standard rear swing-out doors and hinged cargo doors make loading and unloading your cargo easier, while multiple ways to set up the interior of your van make this option perfect for many trades. With a maximum payload capacity of 4,280 lbs, accommodating nearly anything is effortless inside these functional vans.
Service Body Vehicles
Landscapers, construction workers, and many other industry pros rely on service body vehicles to help them get the job done without delay. Through a variety of upfits, you'll be able to create a fleet of service body vehicles that meet your business requirements, including dump trucks, landscape beds, platforms, utility beds, and many more. The Silverado HD Chassis Cab models are some of the best models to choose from when you have service body truck needs in mind.
With a maximum Gross Combined Weight Rating (GCWR) of up to 40,000 lbs, any task is possible in these hard-working vehicles. A heavy-duty locking differential in the rear allows maximum traction, allocating power to the wheels with the most control. You'll also find features that add value to the workday, like three fuel tank options available, multiple cab sizes, and more convenience features inside and out.

Box Trucks
Movers and many other delivery services rely on box trucks to help them transport their goods to eager customers. When you need a vehicle that can keep up with the demands of your business, the Low Cab Forward models are ready and willing to take on the task. Providing you with a GVWR of 25,950 lbs, these models can handle it all. Plus, with eight wheelbase configurations and multiple box lengths, designing the trucks you need is easy with Chevy. A strong 5.2L Turbo-Diesel engine with 215 hp and 520 lb-ft of torque delivers the power you're looking for when you need to complete all the tasks on your to-do list. As with any of the commercial trucks in the lineup, multiple upfits are available to create the perfectly-designed trucks you need in your work fleet.
Why Richard Lucas Chevrolet?
The biggest advantage of working with Richard Lucas is that we can help you choose the best option for your business based on extensive knowledge of the commercial vehicle industry. We know exactly what to look for and listen intently to your needs to help you organize a fleet that will allow your business to flourish. From commercial fleets to small business needs, we can help you find what suits your needs and budget. There's not a one-size-fits-all approach to your business, and there's certainly not one for your commercial vehicle needs, which means partnering with an experienced team is a must.
In addition to helping you figure out your needs, there are also many perks that go along with working with our expert team. For starters, you'll be paired with a dedicated dealer representative, who will be your teammate in discerning your needs and, ultimately, crafting a plan for your commercial truck fleet. We also offer extended service hours for commercial vehicles because we know that with everything you have to get accomplished, there may not be time to bring your vehicles in for service or repairs during the workday. In addition, we have work-ready loaner vehicles to help you keep up with the demands of your business day so that you can get everything checked off of your to-do list, even if some of your vehicles are in for service.
You get the total experience with us, which is why more area businesses choose to partner with us for their commercial truck needs. You'll also find that in addition to multiple vehicles available in our commercial lineup, we also offer a variety of upfits so that you can design the vehicles that work for your everyday business tasks. There's no denying the convenience you'll experience at our dealership, which makes us the premier New Jersey dealer to work with when your business productivity is on your mind.
Find That Perfect Commercial Truck for Your Business
You could be an up-and-coming new business needing a few small delivery vans or a large commercial delivery service wanting an arsenal of box trucks to keep your business moving forward. No matter what your business entails, there's a Chevy commercial truck that's perfect for your unique needs. That's why Avenel drivers and beyond trust in Richard Lucas to help them establish their needs and build the vehicles that will meet these needs each day. If you need a new commercial vehicle, stop by and meet with our commercial staff and experience how it feels to work with the best. One meeting with us, and you'll know that we're the dealership to partner with when your business depends on it, and we can't wait to help you craft a winning solution for your business to power it forward today and into the future.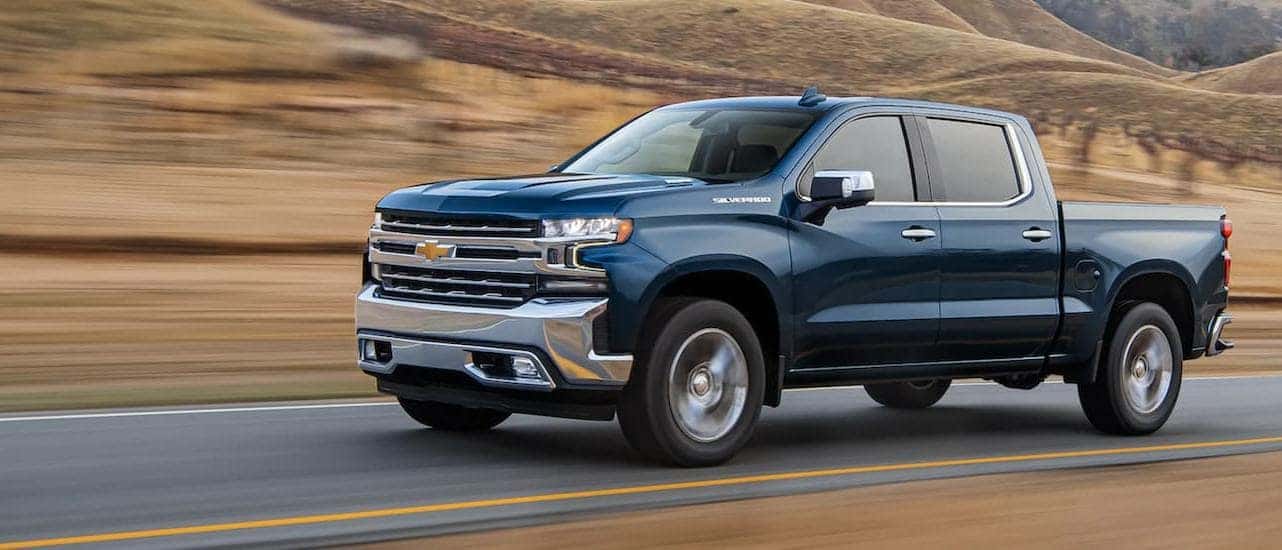 Richard Lucas Chevrolet Is Ready to Help
n
Whether you are looking for a great off-road model like the Chevy Colorado ZR2, a hard worker like the Silverado 1500, or even more power from a Silverado HD model, we are here to help. At Richard Lucas Chevrolet, our friendly and knowledgeable salespeople can work closely with you to explore all of your options and make sure you get the perfect truck. We will answer any questions you have, look at the various models and trims available, and help you decide on which new pickup will best meet your needs.
n

Our financing experts have really seen it all before, so they can do everything possible to help you find the right financing to get the truck you want. At our certified service center and parts department, we will keep your Chevy pickup running beautifully, whether you need routine service or want to order parts to do the work yourself. Call or come visit us at Richard Lucas Chevrolet to learn more and let us help you find the perfect truck with everything you need.