CERTIFIED PRE-OWNED CHEVY SILVERADO DEALER
There's nothing like the experience of buying a pickup truck, but it can get even better when you are able to save money and still get a truck backed with plenty of warranties. If you are ready to get a new truck, then you need to visit us, your Certified Pre-Owned Chevy Silverado dealer, to get a great used truck at an excellent price with many of the benefits that come when you buy a new one. What separates us from the other dealerships you may have seen and or visited thus far? At Richard Lucas Chevrolet, we have curated a unique shopping experience where we can help our customers find exactly what they are looking for in a model. We have one of the largest collections of CPO vehicles in the area and will take the time to talk through all of your options to see what will work best for you.
The CPO Chevy vehicles that we offer are top-notch and have undergone a heavily detailed 172-point inspection process. During this process, all minor issues with the vehicle will have been fixed, but more intense problems will disqualify the vehicle from the program altogether, so you can be sure that your Silverado will be high-quality if it is a CPO. That's not even the best part about CPO vehicles. Perhaps the best aspect of purchasing a CPO vehicle is the included warranties that come with every purchase. Whether you want a classic Silverado 1500, an in-charge 2500, or a grand 3500, choosing a CPO model is the way to go.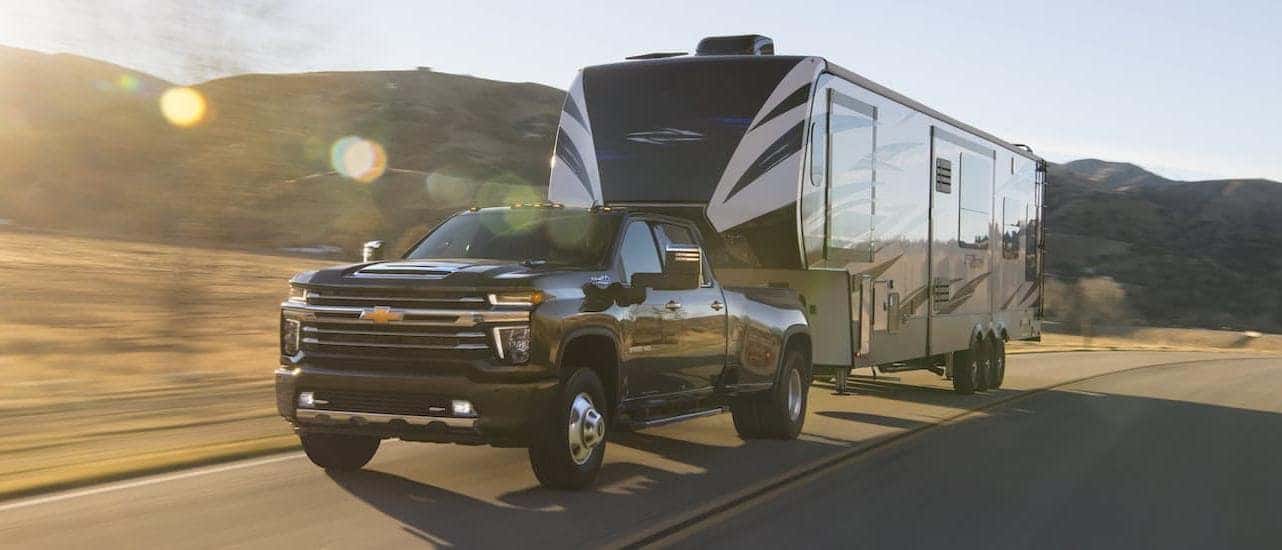 The Silverados
First released in 1998, the Silverado has been a continuous hit for Chevy and is one of the very best-selling vehicles from the manufacturer. The Silverado was built to give drivers a new full-size pickup truck that would rival the best in the market at the time. Alongside the Silverado 1500 came the Silverado 2500HD, bringing more power to the table. It wasn't too long after this when the Silverado 3500HD would release and would form the heavy-duty lineup that has become a favorite of those who need a truck that can handle hard work. With more than two decades on the market, the Silverado has a massive following that has kept this lineup able to constantly update and upgrade to keep up with modern demands.
The lineup of Silverado models has received such a large following because Chevy has continuously proven its potential. Silverado models are available in either a Regular, Extended, or Crew Cab, and you'll find these trucks in either two or four-door configurations. Regardless of which generation of Silverado you purchase, you can always expect exceptional performance, and later 1500 models can easily tow 10,000 lbs and beyond. Meanwhile, the Silverado HD line is on another level entirely. Trucks such as the Silverado 3500HD aren't your average vehicle and are some of the most powerful consumer-grade pickup trucks you can purchase. Workers take notice because you can expect over 30,000 lbs of towing performance with CPO models in the right configurations.
Included Warranties With a CPO Silverado
Your Certified Pre-Owned Silverado will come with two warranties. The hope is that with each CPO vehicle being no more than six years of age along with a detailed inspection process, you shouldn't expect malfunctions. However, the two included warranties are in place in case of unforeseen malfunctions, which is worth having on any vehicle that you purchase, new or used. What are the two warranties that you'll be getting? First off, your CPO Silverado will come with a 6-year/100,000-mile Limited Powertrain Warranty. The second warranty that comes with any CPO Chevy vehicle is a 12-month/12,000-mile Limited Bumper-to-Bumper Warranty.
Let's begin by discussing the Limited Powertrain Warranty. Considering all of the parts that ultimately make up your truck's powertrain, this warranty covers repair costs on unforeseen complications that could arise. In total, dozens of components make up your powertrain, and if any of these parts begin to malfunction, then your repairs are covered. The only way your vehicle will become ineligible for repairs covered under warranty is if the damages were your own doing and not a malfunction or regular wear and tear. Having a damaged powertrain is bad, and without a warranty such as this one, the repairs can get expensive quickly.
The next warranty that comes with CPO Silverado models is a Bumper-to-Bumper warranty. Many aspects of the vehicle are covered under this warranty, but not everything. You can expect many components to be covered under this warranty, and as the name suggests, these components include everything from the front bumper to the rear. However, it's important to note that your typical wear-and-tear items are not covered here. Wear and tear items that you shouldn't expect to be covered include brakes, wheels, tires, and more. If a component of your vehicle becomes non-operational within this time frame, such as a window that won't go down or a broken air conditioner, then you should be covered under this warranty. Like the Limited Powertrain Warranty, any damages or malfunctions caused by human error will not apply. It's also worth mentioning that you must keep up with your maintenance visits to utilize this warranty. This shouldn't be an issue since your CPO Silverado will come with two complementary mechanic visits within two years or until your vehicle reaches 24,000 miles on the odometer.
Richard Lucas Chevrolet Should Be Your CPO Stop
You may not give it much thought, but finding the right dealership will not only make your shopping process easier, but you can trust that the dealership will have your back. A host of staff members that can match your excitement levels when shopping for a new vehicle can make all the difference. We've heard it all the time, what makes the best dealership? A lot of vehicles? A large and competent team? Or, is it the value proposition that competitive pricing has against other dealerships? At Richard Lucas Chevrolet, we believe that the answer is all of the above. To prove this, we've created a dealership that focuses on all three of these aspects.
When you're shopping with us, we don't succeed unless you do. To best assist a customer, we treat every customer with the respect and time they deserve, and we've got the tools to help you find any vehicle that you want. For example, if you want the Chevy Silverado, you'll find it on our lot. This exceptional service extends to the other departments at our dealership, including our on-site service center and on-site finance center. With the help of these departments, our dealership can truly thrive beyond the sales floor, and our services benefit all of our customers within the greater area.
Consider a CPO Silverado for Your Next Truck
Why wouldn't you want to purchase a vehicle that's cheaper than a brand new one but includes the best benefits associated with it? Sure, the chances are that your Certified Pre-Owned Silverado may cost a bit more than the ones that you'll find on the average used lot, but trucks on the used market haven't received the same care and attention that CPO models receive. Plus, they come with those peace-of-mind warranties that are worth the slightly higher cost than a regular used model.
CPO models are best considered an investment, perhaps even more so than your typical new vehicle. While new vehicles begin to depreciate at a rapid rate, CPO vehicles don't lose their value as quickly. The goal of a CPO model is to provide customers with a vehicle that they can afford and trust. So, it's time to consider making your next Silverado a Certified Pre-Owned model, and there is no better place to find one than at Richard Lucas Chevrolet.